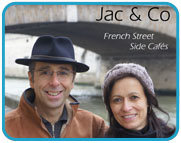 Jacques Pellarin is on the move again and touring the USA from April and May this year !!!
23 Apr 2015
Jacques Pellarin is one of our hardest working touring artists from France. With spring on the way Jacques has announced his "Jac & Co" tour. The tour will run for two and a half months from 30 March into May this year and will take in a number of French restaurants throughout the USA including the states of Philadelphia and Washington. Based on the outstanding success of his last tour Jacques was able to capitalise on the demand and get this next tour locked in. Congratulations from everyone at Blue Pie on the growing demand and fan base you are building Jacques !!!
There will be additional dates announced at various cultural centres for the states of Rhode -Island, northern New York, Pennsylvania, and even a recording session in New Jersey!
For all the latest news remember to check out Jacques site here www.jacquespellarin.fr