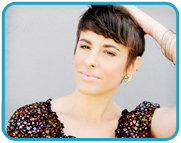 Jessy Tomsko has a solo show coming your way!
04 Jul 2014
Jessy Tomsko is ready to do a solo show!
At the end of July you can catch the sweet Jessy Tomsko show you what she's made of in Hoboken!

The little starlet is bringing her playful, quirky and cute sounds to the Life Is Beautiful Gallery, the evening will consist of lite fare, drinks, art, and great people!
Her recent release of her EP Big Hearts was a massive success, and was a collection of wonderfully structured pieces. her style has developed throughout her career as an artist.
"Her style is so easy and her voice so sweet you might not notice how skilled she is. She really finesses these soft lilting melodies, carefully treating every inflection…"Nathaniel Rolnick – MuzikReviews.com
you can purchase tickets to the show here
for more, check out her website www.jessytomsko.com