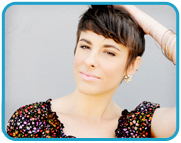 Jessy Tomsko has invited you to come celebrate her 'Big Hearts!'
02 May 2014
Calling all you fans with big hearts! Jessy Tomsko will be performing live at Rockwood Music Hall, Stage Two in New York at 7pm, so if you're in the area, Jessy would love you to join her and celebrate the release of her latest EP album, 'Big Hearts'.
For those who can't make it to New York or live overseas, no need to fret! Jessy hasn't forgotten about her fans outside the US! Jessy will be also performing an online concert via Concert Window the following night, May 29th at 9pm (EST). So not only can you can log in and check out the live stream, but you'll also be able to interact with her! You can click here for more information on her online concert.
So, needless to say, Jessy Tomsko has a lot going for her and she couldn't be more thrilled to share it with you all! In the meantime, make sure you check out Jessy Tomsko's facebook here for the latest updates as well as her official website here.