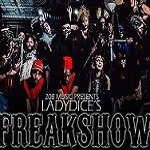 LadyDice's Freakshow Touring Oregon and Idaho
08 Oct 2018
For four nights and four spectacular shows at different venues across Oregon and Idaho LadyDice's Freakshow will be bringing you a wild night of intense sideshow and horror music and delights, with music, dancing, contests, a sword swallowing, acrobatics, fire breathing, ballet, and so much more, this is guaranteed to be a night you'll never forget.
Starting strong in the thematically appropriate Salem, Oregon, this circus themed Halloween show of chaos, horror, and talent beyond the realm of humanity will travel through Oregon and Idaho with four different shows. October 20th 7pm at Shotski's Wood Fired Eats Salem, OR, two shows October 26th at 7pm and 8pm at the Seven Restaurant & Nightclub Bend OR, and on October 28th in Idaho Falls ID at 8.30pm (venue to be confirmed). You can find more info about dates, tickets, and locations at her Facebook page linked below.
If the teaser trailer is anything to go by its going to be a hell of a night. Just make sure you don't offend any of the performers, lest you walk away with a curse.