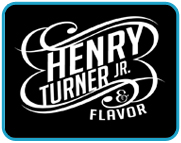 Let Henry Turner Jr & Flavor treat you to dinner… We know they have some tasty treats in store for you!
12 Nov 2014
It is Time To Have Dinner With Henry Turner jr. and flavor again Poor Boy LLoyd's Seafood Restaurant This friday Night 7pm 201 Florida St, Baton Rouge, LA 70801(225) 387-2271 Make a reservation so you have a table , See You There !!! Henry Turner jr. and flavor are performing on top of their regular headline slot for the Downtown Saturday Night Concert series. The Downtown Saturday Night Concert series headliner, Henry Turner Jr. & Flavor are well known for their brand of Louisiana Reggae, Soul, Funk and Blues. Make sure you head down every Saturday night for the best music in town!
The band is Henry Turner Jr. on guitar and vocals, Joshua Chang on bass, drummers and percussionists Keith Lewis and Brian Davidson with background vocals by Jenessa Nelson and Diana Mendes. Additional highlights include an array of special guest performers such as blues/folk soloist Johnny Midnite, the jazz funk group Almost Human and rocker and guitarist Ashton Proctor. Touring extensively throughout the United States for the last fifteen years, some of their Hit City Digital releases include "2 Many Women," currently playing on 88.1FM, the Caribbean influenced "Smile of Her Face" and "I Like to Limbo," as well as ballads that include "Love Me or Leave Me" and "I Might Just Let You Go." Funky dance tunes are "Big Butt Girl" and "Ugly Man," to mention a few.
Don't miss out on this unique and intimate perofmance by Henry Turner Jr and Flavor wich is sure to compliment any course! To keep up to date with the band, tune into Henry's weekly radio show on Tuesdays at www.blogtalkradio.com/hcrgoldenvibes
You can also find out more at www.henryturnerjr.com
For more Henry Turner Jr & Flavor music news, gig updates, new music releases and downloads checkout the links to their official Facebook and ReverbNation pages!