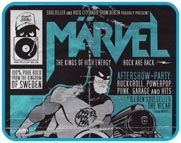 Marvel returns to Germany!
22 Apr 2014
Off the back of their fourth album release "Hadal Zone Express", Marvel has announced three very exclusive concerts in Germany. The mini tour will kick off with an acoustic show at the Ramones Museum in Berlin!! For the first time in the history of High Energy Rocker King , Burgher and Vicar will resort to the acoustic guitars and present you a specially compiled program for this evening. The unplugged show will begin promptly at 18:30 with a champagne reception and best of all admission is FREE!
Then it's on to the Cortina Bob in the heart of Kreuzberg. Here the Berlin local heroes will present their album for the first time out of Sweden, but of course will not forget their classic hits!
Indeed there will be an after party featuring DJ Ben Soulseller and DJ The Vicar (from Marvel) with a lot of rock and roll, power pop, punk and garage hits and will kick off at 20:00.
For more information on Marvel's exclusive Germany shows go to www.soulseller-mag.com
Make sure you Like Marvel on Facebook for updates and more information on upcoming gigs and releases www.facebook.com/marveltheband