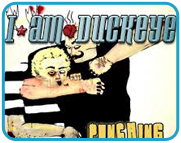 PSSSST! Look out for a secret warehouse gig coming to Sydney
12 Feb 2014
A furious DIY train wreck of a band that incorporate punk rock, metal and comedy with classic results are heading to Sydney this weekend for a secret warehouse gig like no other!!
I Am Duckeye will be announcing the location on the day, but you'll have to be paying attention and join their facebook event to be alerted.
All we know is Saturday 15th in Sydney, train wreck punk rock comedy band, I Am Duckeye, will be taking over!!
Make sure you join the facebook event or youll be left behind!