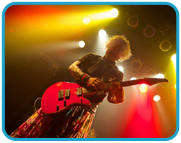 Sparky Quano has some exhilarating shows coming your way!
07 Jul 2014
Sparky Quano is gearing up for some hectic live performances this July! If you're in Japan you should definitely check them out!
With a style that is a unique fusion of electro and rock, Sparky Quano brings his magical performances to life with an energetic and uplifting style. He creates hypnotising electronic sounds, without the use of computers! It's created all from his guitar! There's a big difference between hearing about it and actually seeing it performed live, so get on down to the nearest venue and check out the crazy and hypnotic Spark Quano! Performing songs from his latest album Jenga, you will be in for a treat! And he will be showcasing some new music at the gigs too!
Monday July 7
Mission's
Suginami-Ku, TOKYO, JP | 5:30PM
Thursday July 17
K's dream
Inage-Ku, CHIBA, JP | 6:30PM
Tuesday July 29
Outbreak
Shinjuku-Ku, TOKYO, JP | 6:30PM
Check out this crazy performance, it's only a taste of what his live shows are all about!
For more, check out his website