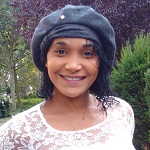 Suzanna Lubrano bringing tour magic to December!
12 Dec 2019
Suzanna Lubrano knows the best way to end the year – with a concert or two!
13th-14th December 2019 – Maputo Show
Friday 13th and Saturday 14th December 2019
Venue and time TBA
Maputo, Mozambique
28th December 2019 – Cape Verde show
Saturday 28th December 2019
Venue and time TBA
Ilha Do Sal, Cape Verde
These tours have already been put on her BandsInTown. The finer details are TBA, but if you're a local, this is a scene you can't afford to miss!
But in case you've been living under a rock, you might be wondering who Suzanna is and why you should check out any of her tours at all?
Through the power of streaming we can answer that – and so can you! Introduce a friend into the craze today!
We're sure Suzanna will be "loving you forever" if you check out her online catalogue, as she's put much hard work and soul into these songs over the years, and it shows.
To check out even more of Suzanna, check out these official links below!