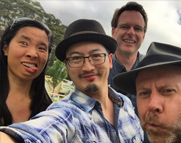 The Dear Orphans get ready to get the house full at the Coogee Diggers !
01 Dec 2015
Catch the awesomely talented Dear Orphans band live at the Coogee Diggers club on December 17th! Don't miss out on this stellar show at the Bunker Bluegrass, starting at 7pm.
For more information and details about the gig visit their website or Facebook page.
DATE: 17.12.15
VENUE: Coogee Diggers
ADDRESS: Carr St, Coogee NSW 2034
CONTACT DETAILS: (02) 9665 4466
OFFICIAL WEBSITES: