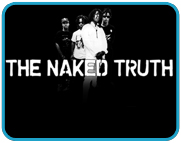 The Naked Truth are going to hell & they are taking us with them!
26 Feb 2015
"We R all going to Hell And I'm the Driver Fest 2015"
Who: The Naked Truth – 18 years & over!
Where: 1245 Glenwood Ave SE, Atlanta, Georgia 30316 at The Basement.
When: April 24th 2015
How Much? $10 at the door
Contact: +1 404 622 8686
Doors Open at 7PM til 2PM
So what are you waiting for?
Get some TRUTH into your live and get NAKED with the Naked Truth Band !!!