Update: More Dates Announced on Dave Evans South America Down Under Tour !
13 Oct 2018
Iconic Australian Rocker Dave Evans is touring South America at the moment, heading through Brazil, Uruguay, Argentina, and Chile, Dave will be performing all his ACDC Hits and music from his solo career with the South American Badasses. We've already covered some of the info on this, but since writing the first article more information has been released, so here's an update.
More shows have been added, see the pic below for dates, and check his facebook page for more info and ticket/booking info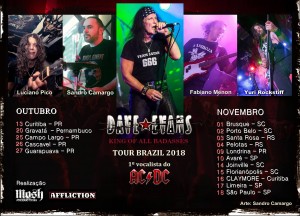 On top of the obvious attraction of the original one and only Dave Evans and his thundering rock vocals, if you were somehow on the fence about going to one of his shows, you might want to check out the array of limited edition merchandise only available at these shows! Tonnes of T-Shirts, Guitar Picks, and for the true aficionados: Dave Evans has his own beer and moonshine! Dave Evan's Rock IPA and as of yesterday Dave Evans Moonshine. Custom brewed just for Dave, both of these will be available throughout the tour and at selected breweries in Brazil. More info on his Facebook.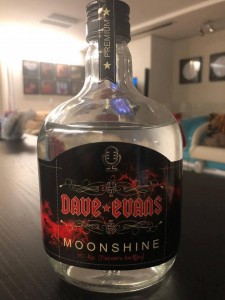 And if you thought it couldn't get any better, Dave shows us just how hardcore he is with a Fight against Cancer Charity Event sponsored by Harley Davidson. The event will run from the 12th to the 14th and all proceeds are going to the Erasto Gaertner Hospital, which is the largest centre for cancer research and treatment in Southern Brazil, serving 32,000 people per month and performing over 1.7 million procedures just in 2017. They need your help, so show your Hardcore Rock Spirit and give generously! More info such as venue can be found in the image below and on his Facebook page, linked at the bottom of the page.
Update: Within 24 hrs this event sold out, but there are still plenty of other shows to see, hurry and get your tickets now so you don't miss out!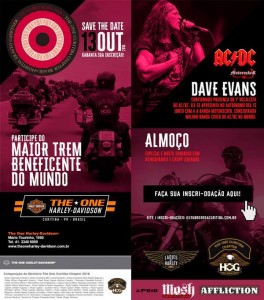 The tour is ramping up to be pretty explosive, if you can get to it you should, it's a once in a lifetime experience. Don't miss out!
More information can be found on Dave's Facebook page, make sure you like the page and keep an eye out for updates in the near future. Don't forget to check out the merch previews there too!