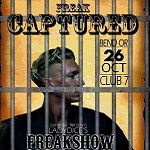 Update on LadyDice's Freakshow Tour: Local Celebrity Chandler P Captured by the Freakshow !
27 Oct 2018
Breaking News, LadyDice and her Freakshow are in Bend, Oregon tonight and earlier today they have kidnapped local celebrity Chandler Price and are forcing him to perform for them tonight at the Club 7 as part of their Freakshow.
Chandler is a hip hop artist born and raised in Bend, Oregon, determined to make a name for himself in the Pacific Northwest and find his place in the spotlight. He regularly tours the west coast and the rest of the US, Chandler lives and breathes his artform, and for this LadyDice has targeted him and branded him as a fellow freak. Whether he likes it or not he will be spitting fire on stage and blowing the crowd away with his amazing rhymes.
The Freakshow just keeps getting better, be there tonight and watch Chandler P perform for his life alongside the rest of the Freakshow, with music, dancing, ballet, fire breathing, sword swallowing, and so much more, there's nothing in heaven or hell quite like these freaks. Tonight is guaranteed to be unforgettable.
If you want to see LadyDice's Freakshow and their special guest Chandler P you can find ticket and venue information below on LadyDice's Facebook, as well as Chandler P's Facebook page. If you can't make it to this show, there are others coming up soon, info on LadyDice's Facebook page.