The Millennium Tour for B2K that's been going for the two months of March and April is exactly as awesome as we predicted it to be! And the USA agrees that B2K AKA the Boys of the New Millennium are most welcome back in our hearts and ears! The gross figure of the concert starring the boys and their guests grossed 6.7 MILLION dollars, and it's easily the best tour they've EVER done! Fans have been going crazy about their tour and already multiple videos of their tour and reviews of the experience are flooding the internet. Such as this glowing review right here! This is the video for you if you wanted a fan's unique individual perspective on how it all went down for her personally.
But say you wanted a less personal take and just wanted to see the tour as though you were there in the crowd… or perhaps wanted to relive your moments at the event itself if you were lucky enough to attend! We also have you covered on that angle too! Here's a short video recorded in the crowd!
Want more? How about two tour recordings for the price of one! This one's a little longer! And if you scroll into the comments, you can see some acclaim for a certain someone's dancing skills~
That satiate you? Give you a window into the good time that B2K blessed us with? Want more nostalgia? If you wanted to get a blast from the past, check out B2K rockin' it here with Uh Huh!

Or if you're more of a future music listener, Raz B may be the style you're after, especially as he's our DJ Central boss for China and one of the members of B2K! Check out some of his modern hits ever since the glory days passed- he's kept the fire alive, and we're super glad to be working with him, especially after a mindblowing success like this… and how the fans couldn't stop commenting on his dance skills! That's right, we were talking about the man himself!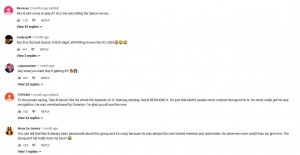 Click on the picture to check out the comments in detail! Just look at that appreciation. And it extends to the band itself, as does our appreciation! We welcome you back B2K. Our nostalgia is thriving on this and we're glad to see you once again.
B2K FACEBOOK www.facebook.com/B2k-223752504376980
B2K TWITTER www.twitter.com/b2k