As fans of Down3r would know, his flagship song Suga Boom Boom has been going strong for many years now, around 5 years of musical bopping G-funk. But not everyone is along for the ride, as a commenter recently scoffed.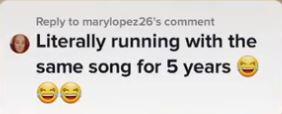 But how did Down3r take it? He could have done a whole lotta things, including cussing the commenter out or ignoring them completely and taking the L. But if you've heard Down3r's hit track No L's before, then you'd know he wouldn't take this kind of thing softly. But nor did he explode on them. Let's look at how he handled it.
Mellow, but straight to the point with no dancing around, this is Down3r standing up for himself but with no angry fluff or hate. One of the better ways DL could have chosen to deal with the situation. You can still tell the commenter was blown out, but DL kept his cool and didn't freak out. And his fans have agreed, flocking to the mini-drama in droves: at the time of writing, this Tik Tok video has over 2 million views! People just love to see the spice where they can. DL's Tik Toks get over 1000 views at their very worst, and typically hit the hundreds of thousands. But this one is quite special. 2 million is pretty big, even for DL's popular account! But of course, his other Tik Toks also are turning heads. And it's because of this that his fans have shown their support by spreading the love on the reply video above. It's clear that Down3r's fans love him as much as they love his music and his awesome vids, especially on Tik Tok!
And Down3r has seen this too. He responded to the fans and their efforts in another Tik Tok, and this makes for a neat little bow atop this story, wouldn't you say? As Down3r says, he could have responded to the hate with more hate, but he knew that wasn't the way. We see you, Mr Suga Boom Boom!
One hit after another, Down3r has proven that he knows how to bottle lightning and turn heads across the world! We can see now for sure that this is true not only for his music, but for his Tik Tok channel! Go ahead and check out this link to see some of his newest sleeper hits… maybe we'll see a music video or two on there in the future featuring his excellent tracks! www.tiktok.com/@therealsugaboomboom
The mastermind behind the incredible "Suga Boom Boom" anthem shows us that he's got more up his sleeve to give to us, and just like that, his Tik Toks rack up thousands upon thousands of views, even on his worst day! And as you might have noticed, when he's at his best… we're talking tens, HUNDREDS of thousands of views! And this time, MILLIONS! Who didn't expect that with a banger like Suga Boom Boom under his belt?
Down3r's got plenty more to come, too! His Tik Tok is rather regularly updated, so if you're a fan of seeing Down3r's face and not just reading his text posts, well… superfans, looks like Tik Tok is the platform for you! We've got plenty more to look forward to – shoutouts, peeks into his life, and more! So while you're waiting for his next update, bump that Spotify playlist LOUD, and get hype – we're now able to live our best Down3r lives even easier now! And so it seems everyone else has… might we reiterate that the best of his Tik Tok work is getting MILLIONS OF VIEWS?! Now that's killer.
So for the few of you in the readerbase who are STILL unlucky enough to have not heard of Down3r after all this time and aren't sure where to start, consider this an introduction to the rest of your hip hop life!
Check out DL Down3r at the following official links: