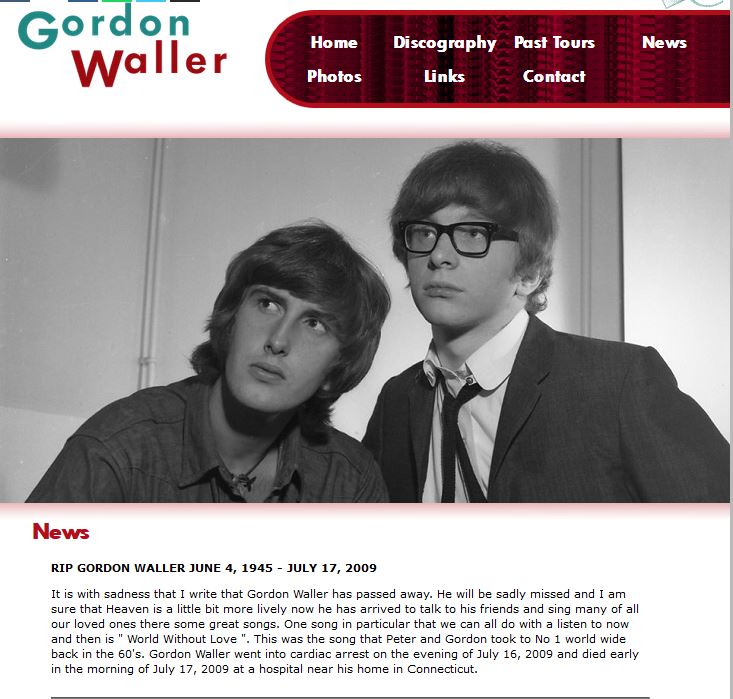 (Original article and source of above picture)
July 17, 2009. A significant day in music history. The day that Gordon Waller was laid to rest in Conneticut. It is now July 17, 2019- ten years to the very day that Gordon passed on. In honour of this ten year anniversary, we dedicate this article to celebrating his life- one filled with music, talent, and lively expeditions with his friends and loved ones.
As our In Memoriam page says, we honour the Blue Pie Records artists who have passed on. We preserve their bios there for posterity, to show that while their song may never again pass from their lips, it will never be forgotten, and it will still be heard in the music they left behind.
Through this immortalisation, their lives and passions will remain with us, and their music will endure though their bodies may not.  And this sentiment is as true for Mr. Waller as it is for anyone else. We remember him fondly through his music in this regard, as it is truly a welcome legacy.

A wise place for a retrospective of said legacy to begin might be at this album. This is a collection of some of the catchiest tracks that Waller has ever produced, including one particularly famous track… World Without Love.

Many would say that Gordon's true magic was brought to life with his other musical half, Peter Asher. The duo achieved incredible creative success through their chemistry with each other- together they created 20 albums, a dizzying testament to the pair's amazing creative output. Gordon also produced 4 albums as a solo artist. Gordon and Peter made international success with their number one hit, World Without Love, in 1964. This track and others that the duo performed were written by Lennon McCartney, but never recorded. This fortuitous connection arose due to Jane Asher, Peter Asher's sister, dating McCartney at the time. You can clearly hear McCartney's distinct musical touch in this song, but it is married seamlessly to Peter and Gordon's unique musical style and rendition. The two have said that they have rather different singing voices, however some experimentation with singing together led them to discover that despite this difference, they could achieve a lovely, unique harmony! Talents pooling together into a contribution like this to the musical world is an event worth celebrating! Gordon was a pop star since he was 20, and this wealth of experience is clear to see here! The mastery over the guitar and vocals on display is truly something to behold. But such talent is only the tip of the iceberg.

One of the most beloved musicals of all time, and one of the greatest music accomplishments of all time, the classic Joseph score needs no introduction. Gordon contributed his talents towards numerous songs from the score, including Poor, Poor Joseph, Jacob and Sons, One More Angel in Heaven, and Stone The Crows! He played the role of the Pharaoh in several productions of the play and on the LP. Though Peter and Gordon disbanded in 1968, Gordon's talents in the 70s were certainly not wasted on his lonesome. But the world had not forgotten about the standout duo of Peter and Gordon, and that included The OUTpsiDER.

The OUTpsiDER's remixes of several of the duo's biggest hits, including World Without Love, were released to critical acclaim. Even Gordon appreciated these remixes. Produced by Damien Reilly and Phil Munro of Blue Pie Records, these remixes took the charm found in the original songs in a new, interesting direction that allowed them to stand on their own! Of course, the originals remained uneclipsed, however The OUTpsiDER created an homage that just as easily stands on the same level as the originals. These remixes, as well as all other OUTpsiDER content, are available to download now.
But the story doesn't end with that homage. Peter and Gordon weren't quite done yet. Through the help of Blue Pie Records, they reunited briefly in 2008 to perform once again, and nostalgic fans had their aching hearts soothed at long last.

This was a free concert, and it was followed by another performance in 2009. The world had not forgotten Peter and Gordon, and they had not forgotten the world.
Tragically, on this day in 2009, Gordon passed away in his Connecticut home after succumbing to cardiac arrest the night prior. In 2010, a tribute performance for Gordon was held at the Cannery Casino and Hotel in Vegas. An old favourite of Gordon's, the venue sold out rapidly and featured many of the olden musical greats, come out to pay their respects to the fallen giant.
We of Blue Pie Records also loved Gordon. On this day we remember Gordon and his music, and offer him a humbler tribute in the form of this article page and its associated press release. He will live on through such tributes, as he did in the 2010 concert. We have updated his website to reflect this respect for him, and we hope that new visitors will find it pleasing to see his titanic legacy laid out like the grandiose accomplishment that it is.
Today, we remember the ten year anniversary of Gordon Waller's passing. Rest In Peace.
OFFICIAL LINKS