'For releasing seventeen singles, nine CD's, and being credited with developing music that is referred to as Louisiana reggae, blues, soul and funk
And
For his continuing efforts and contributions in mentoring new musical talent, and writing the "Baton Rouge Theme Song", I therefore declare you an Honorary Louisiana Ambassador
Awarded this the 7th day of January, 2019
Billy Nungesser, Lieutenant Governer'
These were the words emblazoned upon the certificate of recognition awarded to the philanthropic Henry Turner Jr., and they are nothing if not deserved!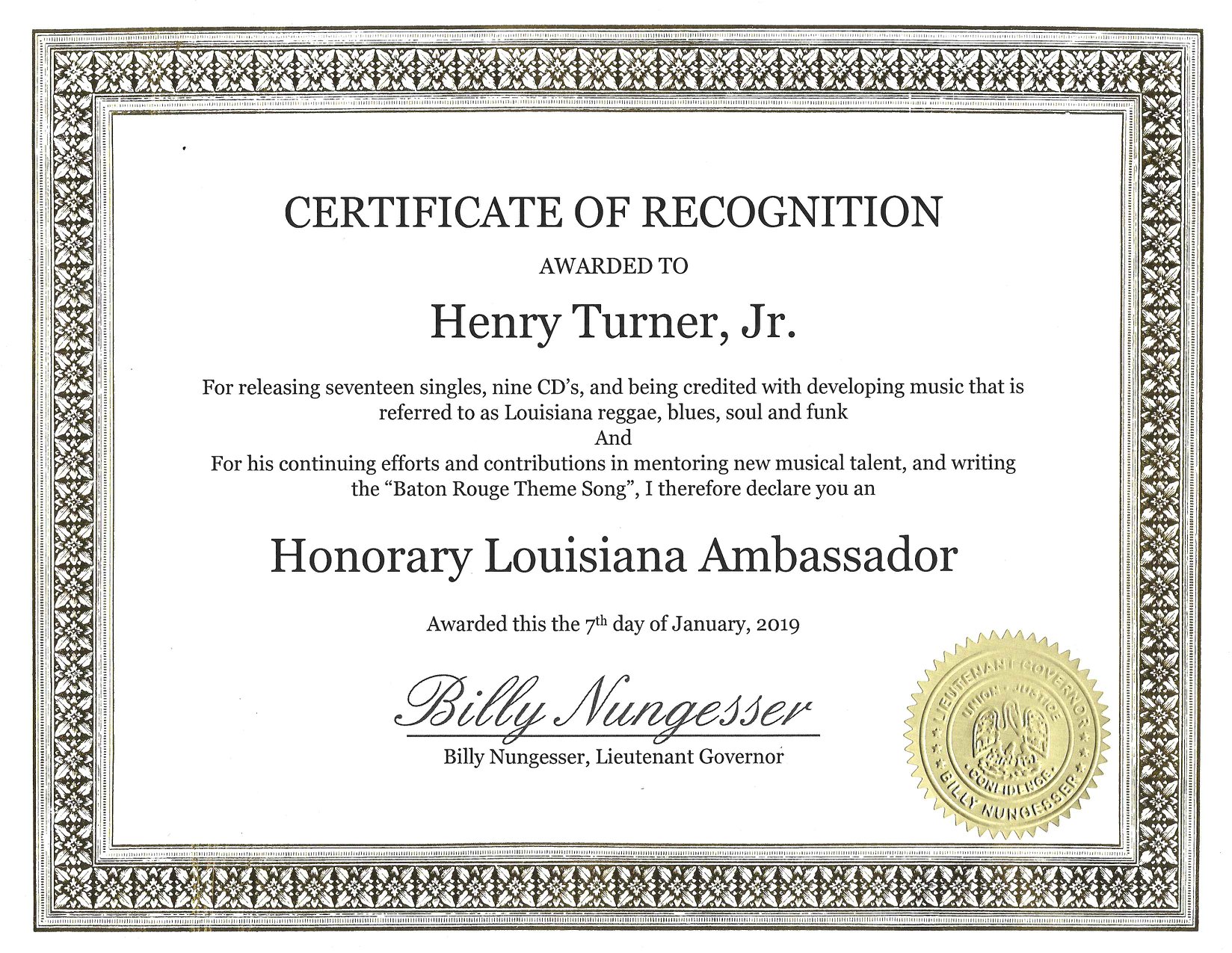 Henry Turner Jr. is a humble man with a lot of care in his heart. He has done a lot for the people of Louisiana, and is a fine choice for an honourary ambassador! Beyond the acts mentioned in the certificate, he has also contributed his long list of talents towards establishing and maintaining Louisiana's Mardis Gras, established a "listening room" to bring the audience closer to the stars every week, and has made it easier for young musicians in Louisiana to get started spreading their art and culture through various movements such as starting the Ultimate Louisiana Party Festival Tour! Yes, if anyone's been involved with the music industry in Louisiana, it's Henry and his band, Flavor, for sure. The spreading and enabling of talent and the growth of skills in performers young and old is an admirable goal- it keeps our arts alive and allows us to focus on matters other than industrial productivity, which is needed for we humans to be whole. Henry and Flavor are at the helm of much of this.
Henry had this to say about the award:
"Thank you, Billy, for the acknowledgment. I will continue to do my best to forward Louisiana Music."
We're sure he will. It'd be very unlike him to ever stop! Especially with hits like this and many more under his belt!



As a show business veteran and entrepreneur his vision is and always will be to share the love he has for his home state of Louisiana, his hometown of Baton Rouge and to introduce the cultural diversity of his world into the world in general. Absolutely admirable- this is a goal that will bring happiness to many. And indeed it has, to the point that an entire day is dedicated to him and his work annually, sharing the culture and music of Louisiana. And of course, the man himself is deeply involved with its organisation. It's also a festival that's free to the public! How's that for the free exchange of culture and ideals?


Yep, it's a sure thing that if you want some chill amazing music the likes of which can only be produced by Mr. Turner Jr himself, there's only one place to go, his listening room… but for those of you at home, we'll close out with a special video that gives you a taste of the magic.



Artist Links:
Website – henryturnerjr.com/bio.htm
Facebook – facebook.com/HenryTurnerJrListeningRoom