Henry Turner Jr. is a name that you'll already know if you live down in the USA, Louisiana way. A musician and entrepeneur, Henry Turner Jr. has made great steps to improve his community and give where he can. He's even been awarded an honourary Louisiana ambassadorship in recognition of his efforts! Around his neck of the woods, he's a living legend. Not only is he a musician but also a composer, producer and promoter. Henry has been accredited to creating a unique and contemporary music style labelled as a mixture of Louisiana Reggae, Soul, Funk and Blues.
Henry possesses a rich baritone voice which produces a soulful and emotive tone to his ballads and catchy dance songs. Henry's ability to incorporate a mixture of blues, soul and funk in his guitar compositions has resulted in a series of unique, upbeat and unforgettable songs.
Henry has produced sixteen singles and eight CDs, releasing them through his own record company 'Hit City' records. This has led to his music being featured in several independent feature films, commercials, compilation projects and highly rated television shows. It is said you can find Henry at the same place every Thursday night, in his listening room doing his thing. A man of the community, Henry brings something truly special to the scene both online and offline, and makes every Thursday night special for his pals! Check out this image to see more!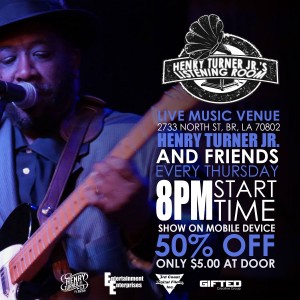 Yep, it's a sure thing that if you want some chill amazing music the likes of which can only be produced by Mr. Turner Jr himself, there's only one place to go, his listening room… but for those of you at home, we'll throw you a bone with a special video that gives you a taste of the magic.
But that's far from the last experience you can find of Henry's cultural impact online. Music Dreams – an American story is a documentary film profiling that very same legend. It explores the beginnings of Turner's musical journey with his upbringing in the Baton Rouge neighborhood Eden Park.
Sampling that playlist should give you an idea as to his musical prowess. If you wanted to find out more about him, or perhaps engage with a legend that already lives strongly in your heart, the documentary is the place to be!
Music Dreams An American Story from Planet Blue Pictures USA on Vimeo.
If you wanted to check it out, Vimeo is the quickest place, so grab your popcorn and settle in. Or if you're a collector and have a heart as gold as Henry's, purchasing and owning the film via Pivotshare will help ensure his musical legend can endure!
As a show business veteran and entrepreneur, Turner Jr.'s vision is and always will be to share the love he has for his home state of Louisiana, his hometown of Baton Rouge and to introduce the cultural diversity of his world into the world in general. Absolutely admirable- this is a goal that will bring happiness to many. And indeed it has, to the point that an entire day is dedicated to him and his work annually, sharing the culture and music of Louisiana. And of course, the man himself is deeply involved with its organisation. We're hoping by discovering him, you'll gain a greater appreciation for the wonderful music that's created in his soulful part of the world!

Artist Links:
Website – henryturnerjr.com/bio.htm
Facebook – facebook.com/HenryTurnerJrListeningRoom