Gallery 3 at The Kollective Byron Bay has been featured in a few of our stories. Usually it's Caitlin Rielly being featured herself, and as the owner of the gallery, we're always keen to see the sort of show she's going to host. But now Sarra Robertson is stepping up to the podium, ready to show off "Road Trip Life" from TODAY, the 23rd of July, up until the 6th of August 2021.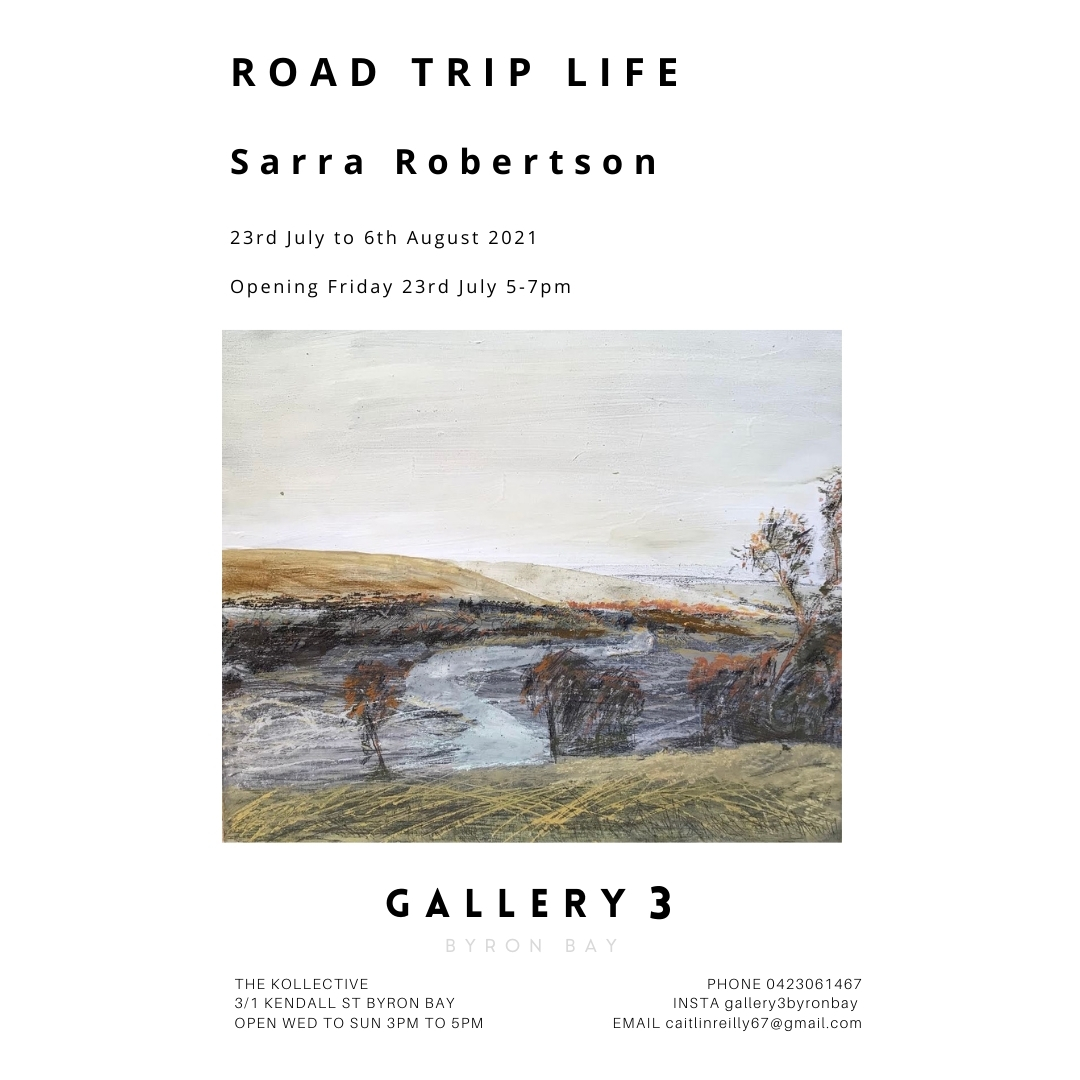 The exhibit opens tonight from 5PM and ends at 7PM, and so the story will go up until the 6th. So even if you miss out on the grand opening, don't fret – there's still time to take in the art and relax in these rough times. If you're down Byron Bay way, this ought to be exactly what the doctor ordered! Don't go stressing too hard now.
The Kollective is located at corner of Ewingsdale Road and opposite the Belongil Beach turn off.  You can enter Gallery 3 from the street front, through the gate of number 3 or via the back-entrance carpark. It's open Wednesday to Sunday typically. The Road Trip Life exhibit offers contemporary works by local artists for the Northern Rivers community and beyond.
This space will host the most intimate exhibitions and performances, intended to bring the intrigued patron and local artist community together for collaboration and connection.
The centered name on this exhibit is Sarra Robertson. In this body of work Sarra seeks to organise the memories of her life, steeped in the landscape that sits outside time. The result of her revisiting the laces of her childhood alongside her own children. Sarra presents to us a narrative of past and present, rendered with sensitivity yet tempered with a maturity that comes only through experience. Sarra is sure to light up Caitlin's gallery, and we're excited to see just what she comes up with!
And as for Covid, the event follows Covidsafe regulations, and allows 20 people into the gallery space at a time. There are also outside areas to enjoy, should they need to enforce limits to the venue's capacity.
We at Blue Pie would like to extend our congratulations on the success of Caitlin's gallery and Sarra's paintings! Nostalgia has become more of a common emotion as things have gone further into decline. This exhibit about looking into the past for all sorts of emotions, positive, negative, and both at once, is sure to be a sobering experience and give people the perspective they need to keep pushing through. Progress, change, where we've been, how far we've come, where we are now – this is what the exhibition is all about, and what better to be thinking about during a pandemic?
Check out Sarra Robertson here!
Or if you wanted more work that's hopeful like Sarra's that has been hosted at the Kollective in the past, or perhaps wanted to check out Caitlin Reilly's songwriting or her own artwork talents, be sure to check out her socials and website!