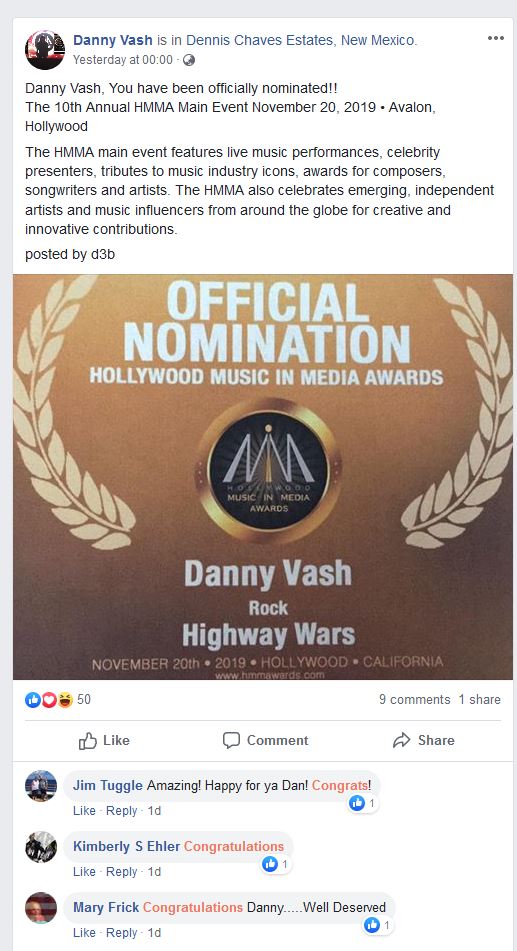 Do you feel that bass building? The excitement crackling in the air as the drums kick in? The increase in speed and adrenaline as you find yourself nodding to the beat when the vocals hit your ears? It can only be one song, by one artist- Highway Wars by Danny Vash!

It wasn't very long ago that we reported on "Hard Life" receiving its own award, and now Highway Wars is following suit! Simple explanation- they're both of fantastic quality, and as the comments say, it's well deserved! The Hollywood Music In Media Awards have picked a fine nominee for the rock category, and we'll be watching closely around November to see when it all goes down! Will he take the award? We're feeling pretty confident, ourselves, but we can't wait to see what other nominees bring to the table! It'll be a rock event unlike any other!
Check out Hard Life here to see what other claims to fame Danny has reached!

And check out the Hollywood Music In Media Awards by clicking here: www.hmmawards.com
Danny Vash has managed to capture the hardcore energy of the great classic rock bands like AC/DC and Judas Priest. And it really shows. Big props to Danny and all who helped him reach this echelon!
For all the latest news check out Danny Vash's official links:
Website- www.dannyvash.com
Twitter- www.twitter.com/dannyvash