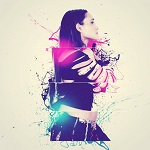 A pulsing beat to match your racing heart arrives! Suzanna Lubrano's "Tudo Pa Mi" and "Casal Perfeito"!
The sorrowful yet energetic beat of this track was a wonderful way to kick off 2021, as was the news that Suzanna was back! Before Covid ruined everything, Suzanna was enchanting the world with her tours. After returning, things seemed quiet. But little did the world know that Suzanna was brewing something quite special…
This track is something fresh for Suzanna, hitting every emotional note and groovy cadence simultaneously. The music video and melody are sombre, and yet the beat is still thumping hard enough that you should have no troubles getting up and dancing to it. Whether that's a solo affair or a romantic sway in the arms of someone at the end of a long night of dancing your hearts out, that's up to you. Either way, Tudo Pa Mi fits either occasion easily!
But what if we told you that this isn't the only Suzanna news we have for you today? What if 2021 was shaping up to be the true year of Lubrano? Well, Casal Perfeito is here with some news for you…
That's right, not only January but February brought some Suzanna spice to the table. Casal Perfeito is the perfect track to vibe to, with passionate vocals and chill guitar. As the comments on Youtube say, the Queen is back, and it's impressive that she's swinging so hard after her break! But after all, it's like knowing how to ride a bike. You never forget it, no matter how long you put it down. And Suzanna isn't even rusty after the hiatus! This is top quality music, just as ever! Stuff you can really sway and groove to! But what else can you expect from the master of a catalogue like this?
Heavenly vocals and chill beats are a trend with a lot of Suzanna's work, although fans will know she isn't afraid to throw down a head thrasher like Don't Go Changing, or DJ Central's theme song, Loving You Forever! And with these new tracks in her arsenal now, we can only look optimistically to the future to see what amazing new music she'll belt out next. Will it be chill and emotional? Or upbeat and hype like this? Only time will tell… and we're on the edge of our seats ready to find out.
Until then, we're gonna keep jamming to these new songs, with our eyes hopefully turned toward the horizon! WELCOME BACK, SUZANNA!
And we're sure Suzanna will be "loving you forever" if you check out her online catalogue, as she's put much hard work and soul into these songs over the years, and it shows.
To check out even more of Suzanna, check out these official links below!