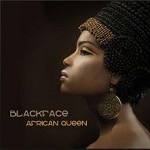 African Queen is BACK?! BlackFaceNaija surprises us all!
LoudHouz Entertainment is bringing us an amazing throwback and it's gotten us all kinds of excited!

BlackFaceNaija, sometimes known simply as "Blackface", is an artist we've been signed with since 2006, and we've enjoyed every single day. Since he broke into the market with 2Baba (who was known as 2Face at the time) with their incredible co-written album "African Queen", he's been making quality music and reaching his dreams, and his fans have loved to hear the amazing dancehall tunes that have resulted from that. If you're not familiar, have this album so you can number among these satisfied fans!

An easy classic for anyone's library, the amazing rhythm, beats, and fantastic chill vibe are sure to make anyone smile. This is an album compiling different versions of the song that the duo were most known for, and it's easy to see why they were known for it. But neither of them stopped there. In particular, BlackFaceNaija went on to see success elsewhere with his inclusion in albums dedicated to his hits, with a few other artists contributing as well! But that's old news. The first Spotify song we linked… that's new. A new version of African Queen!

This version includes a verse that was cut from the original. BlackFaceNaija is doing his best to make this version of the song all his own, and it sounds uniquely like one of his creations, so we can't help but see this as success on his part!

The legacy of the Plantashun Boiz is alive and well, it would seem, and BlackFaceNaija appears to be leading the charge. Bravo! We'll be listening to this chill hit all day.
BLACKFACENAIJA OFFICIAL LINKS: