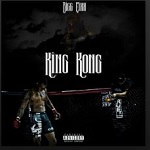 Bigg Cixx returns with the earthquake that is "King Kong"!
You hear that? That throbbing bass sending tremors towards ya? It can only mean one thing- Bigg Cixx is back with another hit, which means it's time to write about him again! That's right, the fresh co-star of No L's has graced us with another single, showing us that 2019 is an amazing year for hip hop!

Listen to that bass! Sure I mentioned it before but it's the selling point when you first listen to it. Bigg Cixx himself also delivers an impeccable performance, bringing his slow flow and heavy rhythm back with a vengeance, and delivering some savage trashtalking while he's at it! This goes hard in the best possible sense. This slow flow is perfect for any intense moment you may need it for!
Bigg Cixx is a Blue Pie Records USA artist and is published by Blue Pie Publishing USA for the world. You can check out more information and the latest news on Bigg Cixx at the following links:
www.facebook.com/BiggCixxBeats
www.youtube.com/channel/UCjQNbHF6jRIE0Vu3-P1dgeA
Check out some of these great hits now on YouTube: