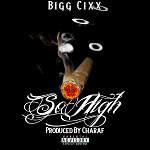 Bigg Cixx's "So High" hits the music video world!
Remember our article on Bigg Cixx's "So High"? If not, that's fine. We can give you a little reminder with this article.
But if you ain't got time for that, let's throw you straight into the chill vibes of the vid!


That's right, the music video for Bigg Cixx's boppin chill hit is finally here! It's on almost all major platforms, with Tidal still processing but on the way! But as for where it is right now, peep this list right here!
Need more? We bet you do. It's chill, yet hardcore hip hop, unlike anything else. Well, you're in luck. For more Bigg Cixx Beats, check out his Facebook by clicking here! And until next time, have fun chilling out to the slick beat of So High, and rocking out to the awesome music video on the platform of your choosing!