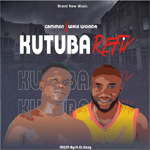 Cammen and Wale Wonda strike perfect synergy with Kutuba Refix and Remix!
Back in 2021, Cammen released a groundbreaking single, Kutuba, that helped spice up the second year of the pandemic in a much needed way!
Then, this year, he released Kutuba Remix, featuring Hypeman Swagg. This was a welcome transformation of the original, and managed to show it off in an entirely unique light, without losing its roots!
Then, both the original and the remix, as well as a new Kutuba track featuring an awesome hook, were featured in an EP this year… remember our recent story on Cammen's excellent collection known as Latoosa Vibe?
Featuring several of Cammen's greatest hits from throughout his career, Latoosa Vibe is a certified collection that should be your first stop if you want to introduce this unique Afro sound to curious friends.
Well, without further ado, there's yet another Kutuba track that we'd love to share with you! This is a fresh new hit from the latter half of 2022, and is ready to close out the year with a bang. You've heard the original, the hook, and the remix… now get ready for the reFIX!
This track features Wale Wonda this time, and really showcases that while Kutuba is a recent track in the grand scheme of things, it already has quite a legacy within Cammen's catalogue. In fact, multiple versions of it were prominently featured in the most popular streamed tracks on Spotify at the time of Kutuba Refix's release, in Cammen's top 5! Now that's a great sign, especially considering how early it was released for those stats to have been processed! It's a fast moving track, to say the least, and we're not talking about that addictive Afropop syncopated rhythm that'll get you off your feet and get you dancing.
Lightning has struck several times with Kutuba, and Cammen has been taking notice, much to the listening pleasure of his fans. We're very pleased to see Kutuba come this far as a track, and we're interested to see if there'll be even more evolutions! Time will tell, but in the interim, Kutuba is a track that's been sticking around in the minds of Afropop fans for several years now, and we're enjoying every second of it.
Moving into 2023, it's only a matter of time until Cammen throws even more bangers up online, and we're hyped to see just what he'll come up with next! How about you, you hype for the Cammen-flavoured future?
Well, until then, be sure to do what we do, and keep your eye closely on Cammen's Spotify!