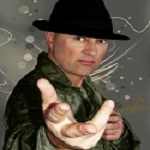 Dale Nougher's Tasmanian Tranquility: New Singles!
Dale Nougher, the reigning maestro of down-tempo sounds, is back to grace our playlists once again. Following the resounding success of his extensive series of singles just a few weeks ago, including hits like "Bell Buoy Beach Thunder By The Sea" and "Coastal Pine Forest," Nougher is now dropping two enchanting new tracks that are set to redefine the art of chill-out music.
"Coastal Gardens Tasmania" transports listeners to a world of tranquil serenity, where the gentle birdsong harmonises with the soothing rhythm of ocean waves. Nougher's deft use of ambient textures and lush melodies in this track creates an atmosphere that is nothing short of enchanting. It's a musical voyage through nature's own symphony, inviting you to immerse yourself in the sounds of Coastal Gardens.
On the flip side, "Deep Meadows Mt George" ventures even further into the heart of tranquility. This track is a sublime blend of ambient sounds and carefully crafted instrumentation, taking listeners on a sonic journey to the deep meadows of Mt. George. The synergy of Nougher's musical prowess and Tasmania's breathtaking landscapes is vividly evident in every note.
Dale Nougher's remarkable ability to weave the essence of Tasmania's natural beauty into his music is what makes him the undisputed "Chillmaster" of our times. His creations have become the soundtrack to moments of reflection, relaxation, and rejuvenation for countless listeners around the world.
These two new singles are set to join the ranks of Nougher's earlier hits, adding to the ever-expanding 2023 collection of chill-out tracks that are perfect for unwinding, meditation, or simply escaping into the world of sound. For those seeking the ultimate auditory escape, Dale Nougher's music is the gateway to tranquility. Get ready to embark on a journey through the ambient soundscapes of Tasmania with Dale Nougher's latest releases!
Dale's music stands as a testament to the power of harmony between human creativity and the natural world. With every note he plays, he invites us to embark on a soothing journey, where the boundaries between art and nature become beautifully blurred. So, sit back, relax, and let Dale Nougher's enchanting melodies transport you to a world where music and nature intertwine in perfect harmony.
CONNECT WITH DALE:
Dale is a Blue Pie Records USA Artist, and is managed by Damien Reilly, for all management enquiries email damienbluepie@gmail.com