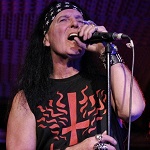 Dave Evans brings the BADASS GREATEST HITS and a Mexico tour!
You may remember from our recent tour story that Dave Evans is bringing us a new single and a tour in Mexico! Well, today, we bring similar news, except instead of just a single, an entire new album has been teased! And Dave isn't touring by himself either… As you can see from his Facebook, Dave is pretty excited to be working alongside Joe Wyman of The Scorpions – these old school rockers are gonna be lighting up Mexico with some new killer tours for 2021!
Where? When? Well, Dave Evans' Facebook has all the specific nitty-gritty details as things progress, but for now we'll show off what's been announced so far – the 29th of July (YEP THAT'S TODAY) until the 28th of August! And all the locations are listed in the flyer. Tonight is at the Red Mosquito! And the next one is at Container Park 7B. Get hype, ladies and gentlemen – are you in the crowd tonight?!
The tour will be raging hard until the 28th of August, with some dates off in-between. For further specific updates, keep an eye on Dave Evans' Facebook, but until then, we're gonna be counting down the few days that are left until these rocking concerts! Have you got your tickets yet? If not, follow the contact details on the first poster and we'll see you there!
But what can possibly tide us all over until then? Well, we have just the thing. That's right, the aforementioned album: it's looking pretty exciting, especially with its title! "BADASS GREATEST HITS"!
The teaser Dave provided on the album makes it look quite promising indeed!
Can you hold your excitement? Well, if not, we have just the thing for you – a means by which to secure your ticket into ROCK paradise!
Just click here to pre-order your copy via Melodic Rock Records!
As hype as this album is set to be, how will it compare to our personal favourite of Dave's, that being Sinner? We'll just have to eagerly wait and see…
We hope that if you didn't know Dave Evans and his rockin' legacy before, this will help you get in touch with your long wild hair and 80s attitude once again – maybe you can even turn up to one of the tours if you happen to be in that neck of the woods right now! Otherwise, look for Dave Evans at all great music stores across the world. For more information on Dave Evans you can visit his official links below. Dave Evans is a Blue Pie Records USA artist and is published for selected titles by Blue Pie Publishing USA (ASCAP)
Dave Evans: