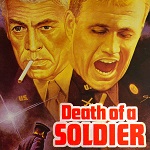 Death of a Soldier - a classic film and evocative soundtrack!
A gritty detective flick, featuring a killer who strikes out with insanity and tensions between the armies of the United States and Australia… that is what Death of a Soldier has in store, as you'll clearly see when you take in this shocking trailer.
Death Of A Soldier (Trailer) from Planet Blue Pictures USA on Vimeo.
You can already tell this one is going to be a tense thriller from a golden era of film, so why keep the suspense heightened any further?! Check the film out on Pivotshare by clicking here!
This film is distributed proudly via our partner company, Planet Blue Pictures, the masterminds behind "The Argues The Movie", featuring Barry Crocker!
And this nostalgic semi noir-style throwback isn't all we have for you today. We're proud to present the film's soundtrack on Spotify, lovingly brought to us by Allan Zavod!
It's not just the film that's classic, it's the brassy big band tones of the soundtrack that help bring it all home! Get lost in another era with a nail-biter that doesn't let up. We of Blue Pie own the soundtrack, and distribute the film via Planet Blue Pictures. So one side handles the visuals, the other the soundtrack! You can read all about this film's trivia on the comprehensive website, and join the other countless fans of this cult classic today:
And if you needed more info about the tale that's in store for you with this movie, look no further than the official synopsis:
"Based on a true story, James Coburn portrays a military lawyer assigned to defend a confessed psychotic killer. Set in the context of WWII and the uneasy US-Australian military alliance. The accused killer claims to have killed 3 women in order to possess their voices. Despite the defence lawyer's concerns that the killer is not fit to stand trial, the US military presses forward with the case and its desire to have the killer executed in order to strengthen the shaky alliance."
A complex and tragic tale, this story of multi-facet political climates and human vulnerability will have you hanging onto every scene. Care to explore the uglier side of military politics…?