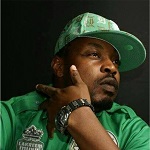 Eedris says STAY AT HOME with his single COVID-19!
Watch out, some graphic SAXual content is coming your way! Eedris' new single featuring Dede Mabiaku and Myke Pam has some premiere saxophone work, and the lyrics hit hard and speak the truth. It isn't just a simple flu – it will only go away if you stay at home! Help society – this is what Eedris and crew hope to do, and it's also what you can do by staying home!

You gotta respect artists like this, who can produce socially vital messages such as this song without being obnoxious about it… and of course, with this track being catchy to boot! And when there's a sick song, there's bound to be a killer music video to accompany it too.
It's thanks to the efforts and passions of Eedris and his crew that this song manages to take a crisis as grim as Corona, and turn it into something beautiful, something driven by care. Much of the world has been doing this on a grander scale, such as the health workers selflessly giving their lives around the clock to combat the dreaded virus. It's heartwarming to see Eedris, Dede Mabiaku, and Myke Pam all following this example in their own way! It's the next chapter in a series of many milestones for Eedris, the last of which we found particularly engaging… click here if you're curious to check out Eedris' HITS volumes!
Eedris is a rapper with an amazing history behind him, and many classics such as Jaga Jaga in his repertoire speak to his musical ability. He is not afraid to speak out for what he believes in, and is absolutely a commendable artist. We're excited to see his hits on display for the world and we look forward to seeing what'll come next from his song-driven mind!
EEDRIS ABDULKAREEM OFFICIAL LINKS:
www.thenet.ng/the-eedris-abdulkareem-interview-remedies-will-be-back
www.saharareporters.com/2012/09/25/i-take-money-oshiomole-because-he-good-governor-%E2%80%93-eedris-abdulkareem
www.360dopes.com/eedris-abdulkareem-biography-profile
www.peoplepill.com/people/eedris-abdulkareem
www.austinemedia.com/eedris-abdulkareem-biography-and-net-worth