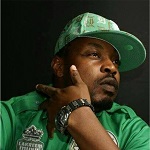 Eedris Abdulkareem is bringing the hits! All four volumes of them!
Eedris Abdulkareem is the artist we all needed in our lives! And for those of us who already know him, we have reason to celebrate just as much as any newcomers- four albums of his biggest hits have JUST DROPPED!
Eedris Abdulkareem | The Hits, Vol. 1

Retailer Links:
Eedris Abdulkareem | The Hits, Vol. 2

Retailer Links:
Eedris Abdulkareem | The Hits, Vol. 3

Retailer Links:
Eedris Abdulkareem | The Hits, Vol. 4

Retailer Links:
These amazing albums are now live on all major retailers, and ready to listen to! But say you missed the boat and dunno who Eedris is. Here's a quick refresher!
Eedris Turayo Abdulkareem Ajenifuja (popularly known as Eedris Abdulkareem) is a Nigerian hip hop artist, song writer and singer. Eedris has been rapping ever since his student days, but first grabbed the public's attention after joining the group "Remedies". This group included the likes of Tony Tetuilla and Eddy Montana, before they finally went their separate ways with each taking up a solo career. In 2002, Eedris released his first solo album, "Pass", which was well received by music pundits. He followed it up with "Mr Lecturer", which mainly focuses on the sexual harassment taking place in Nigerian Universities. In 2004, he dropped another album, "Jaga Jaga", which was even more controversial than his previous ones. The song is centered on the corruption and suffering in Nigeria. If you're not familiar, have this album so you can number among these satisfied fans!

An easy classic for anyone's library, the amazing rhythm, beats, and fantastic vibe are sure to make anyone smile and bop their head to the rhythm. This skill in music is shown in how far Eedris has come. His music has made a splash before, such as when "Jaga Jaga" was banned on radio and television stations by the then president, Olusegun Obasanjo. As a result in 2005, the rapper launched his own record label known as Lakreem Music, and released his 4th album "Letter to Mr President", an album which addresses Obasanjo's criticisms on the song "Jaga Jaga". It also featured "Flash up, Unu lighter", and a tribute to Obasanjo's wife, Stella, who died after undergoing surgery, and also to the victims of the Bellview Airlines crash. During this period in his career, Eedris worked with Ghariokwu lemi, the same person that designed most of Fela Kuti's classic album covers. It's quite a legacy, all things considered.
Eedris is a rapper with an amazing history behind him, and many classics such as Jaga Jaga in his repertoire speak to his musical ability. He is not afraid to speak out for what he believes in, and is absolutely a commendable artist. We're excited to see his hits on display for the world and we look forward to seeing what'll come next from his song-driven mind!
EEDRIS ABDULKAREEM OFFICIAL LINKS:
www.thenet.ng/the-eedris-abdulkareem-interview-remedies-will-be-back
www.saharareporters.com/2012/09/25/i-take-money-oshiomole-because-he-good-governor-%E2%80%93-eedris-abdulkareem
www.360dopes.com/eedris-abdulkareem-biography-profile
www.peoplepill.com/people/eedris-abdulkareem
www.austinemedia.com/eedris-abdulkareem-biography-and-net-worth