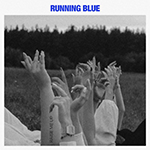 Get Raised Up on the sounds of Running Blue's new release!
Running Blue can't stop winning lately. In the ever-evolving music scene, this band has been making waves and capturing the hearts of fans worldwide. We recently looked at a new release of theirs, Circles, but that's far from the only thing they've been putting out – also part of the new releases is Raise Me Up, another dazzling 80s style single from the boys, once again featuring Gabe Rizza as their mixer.
Running Blue has proven with this release and with Circles that lightning can indeed strike twice. Their unique blend of nostalgic 80s vibes and modern production has captivated listeners and transported them to an era of neon lights and energetic melodies. "Raise Me Up" is no exception, as it seamlessly captures the essence of the era, while still maintaining a fresh and contemporary feel.
Gabe Rizza, the mastermind behind the mixing desk, has been an integral part of Running Blue's recent successes. Known for his ability to enhance the band's sound and bring out their best qualities, Rizza's collaboration with Running Blue has proven to be a winning formula. His expertise shines through in "Raise Me Up," as he expertly balances the instruments, vocals, and electronic elements, creating a rich and dynamic sonic landscape that envelops the listener.
Fans of Running Blue have eagerly anticipated each release, and "Raise Me Up" delivers on every front. The song's infectious hooks, catchy melodies, and irresistible rhythms make it an instant favourite for fans of the band and lovers of 80s-inspired music alike. The lyrics, filled with heartfelt emotion and empowering themes, resonate with listeners on a profound level, adding an extra layer of depth to Running Blue's musical prowess.
The success of Running Blue's recent releases is a testament to their dedication and talent as musicians. Their ability to consistently create captivating music that hearkens back to a beloved era while remaining relevant in today's musical landscape is truly remarkable. With "Raise Me Up" and Gabe Rizza's expert touch, Running Blue continues to solidify their position as one of the most exciting acts in the industry.
As the world eagerly awaits what Running Blue has in store next, one thing is certain: they are a force to be reckoned with. Their winning streak shows no signs of slowing down, and fans can't help but wonder what musical masterpiece they will deliver next. Until then, "Raise Me Up" serves as a reminder that Running Blue's music has the power to uplift, inspire, and transport listeners to a time when the world was filled with endless possibilities.
With plenty of remasters of their classic hits as well as new tracks like this, Running Blue have got something for everyone, and this fresh new era for the band is worth celebrating: and we can think of no better way than playing some more of this kind of heartachy, devil-may-care rock music. Whether you knew the group by the names of either The Zilths or Running Blue, or whether you prefer the remasters of their old work or their new compositions, there's plenty of them to go around for whatever flavour you like best! Running Blue are BACK, they're here to stay, and we can't get enough of them.
You can check out all the news on Running Blue at www.runningblue.net
Running Blue are a Blue Pie Records USA and Blue Pie Publishing USA ( ASCAP ) artist.
TRIVIA:
The Band Members:
Venues and Gigs:
The band played throughout 1985 and 1986 at many venues across Sydney including:
The Student Prince Hotel
The Rose of Australia Hotel
The White Horse Hotel
The St John's Formal | Sydney University
The St Paul's Formal | Sydney University
The Annandale Hotel
Riverview School Reunion Formal | Balmain Town Hall
The Band Comp | The Round House | UNSW