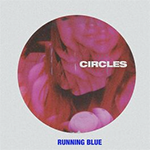 RUNNING BLUE: 'Circles' Takes Fans on an Emotionally Charged Journey Back to the 80s!
In a mesmerising display of their signature 80s bass strumming style, Running Blue has unleashed their latest track, "Circles," inviting fans to immerse themselves in a nostalgic sonic experience. With lyrics that speak volumes in their simplicity, the band once again showcases their ability to craft captivating and emotional narratives through their performance.
Teaming up with renowned mixer Gabe Rizza once again, Running Blue ensures that "Circles" exudes a fresh and modern sound while paying homage to the golden era of music. It's a masterful blend of contemporary speaker quality and the raw rebelliousness that defined the 80s, resulting in a marriage of professional craftsmanship and untamed creative spirit. Whether you're relishing in the memories of that era or discovering its magic for the first time, Running Blue's musical synergy in "Circles" offers a truly immersive experience.
With every release, Running Blue firmly establishes themselves within their niche, and "Circles" stands as a shining example. Their music promises to take listeners on a captivating journey, enveloping them in stories that hearken back to one of the greatest time periods in modern sound. As the 80s become more retro with each passing day, tracks like "Circles" continue to hold a special place in the hearts of those fortunate enough to have witnessed that legendary decade firsthand, as well as those affected by what the trendy types on the internet call 'Anemoia' – nostalgia for a time you have never personally witnessed. Running Blue's effortless ability to capture the essence of the era serves as a testament to their status as proud members of this musical legacy, and "Circles" is absolutely a prime example of that.
With plenty of remasters of their classic hits as well as new tracks like this, Running Blue have got something for everyone, and this fresh new era for the band is worth celebrating: and we can think of no better way than playing some more of this kind of heartachy, devil-may-care rock music. Whether you knew the group by the names of either The Zilths or Running Blue, or whether you prefer the remasters of their old work or their new compositions, there's plenty of them to go around for whatever flavour you like best! Running Blue are BACK, they're here to stay, and we can't get enough of them.
You can check out all the news on Running Blue at www.runningblue.net
Running Blue are a Blue Pie Records USA and Blue Pie Publishing USA ( ASCAP ) artist.
TRIVIA:
The Band Members:
Venues and Gigs:
The band played throughout 1985 and 1986 at many venues across Sydney including:
The Student Prince Hotel
The Rose of Australia Hotel
The White Horse Hotel
The St John's Formal | Sydney University
The St Paul's Formal | Sydney University
The Annandale Hotel
Riverview School Reunion Formal | Balmain Town Hall
The Band Comp | The Round House | UNSW