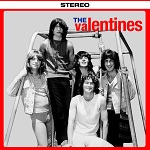 Get ready to fall in love with The Valentines all over again with this EP!
Straight from Sweet Peach Records comes Bon Scott's legendary early days, make way for the Aussie pop band The Valentines! This EP hit from the late 60s is sure to have you nostalgically grooving once again.

You'll probably know The Valentines best for their lead singers, Vince Lovegrove and of course Bon Scott himself. The latter in particular needs no introduction, due to his fame with AC/DC. But before that came The Valentines, as well as the secret uncovered song "Round And Round And Round". We've often sung the praises of this one.
The Valentines formed in Perth in mid-1966, bringing together members of three leading local beat groups: Scott and Milson were from The Spektors, Lovegrove, Ward and Cooksey from The Winztons, and Findlay from top WA band Ray Hoff & The Off Beats. Playing a mixture of soul, R&B and mod covers, by the start of 1967 they were already Perth's top group. A major drawcard was the double-vocal attack of dynamic frontmen Bon Scott and Vince Lovegrove, and within a few weeks of their live debut they were packing in crowds
When Bon Scott made an impact on the international hard rock market as frontman for the awesome AC/DC, he was already a bona fide Oz Rock veteran. During the 1960s, he had commanded the attention of hordes of hysterical fans as a fluffy, cuddly scream-dream pop idol with The Valentines. With the dawning of the 1970s, the adaptable Scott eschewed the bubblegum pop format in favour of the solid thumping rock and metaphysical progressive stylings of Fraternity. From there, it was just a short leap into the no nonsense power rock world of AC/DC. This EP shows off the best parts of The Valentines' journey, and the sound that they were renowned for. The vibe really helped put each of the members on the musical map, and without this chapter in history, we wouldn't have had many songs that a whole swathe of people couldn't ever live without! So play The Valentines loud and reflect fondly back on this era – it too, deserves to be treasured just as much as what these all-stars would eventually go on to achieve.
Check out the Valentines' section on the website for the upcoming Looking For Bon documentary!
www.lookingforbon.com/the-valentines