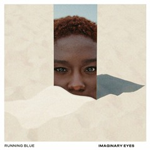 Get your eyes on this one! Running Blue's IMAGINARY EYES!
Energetic drums throw your pulse into overdrive as soon as Imaginary Eyes hits your speakers, with a playful guitar riff putting you straight back in the 80s – Running Blue have immaculately captured the best era of music, and this EP has everything a fan of bands such as Dire Straits could ever ask for!

Running Blue have taken a well-established aesthetic and run with it, making it their own thing in such a way that you can hear the influences, but the new ingenuity will still take you away into a captivating story: this style of songwriting is where Running Blue excels, and they've consistently been knocking it out of the park lately. Imaginary Eyes is no exception.
The TP & GR Mix (Tom Polce & Gabe Rizza) version is generally the more popular of the two available, adding some extra sax, filters, and general tempo that helps it feel a little more 90s than 80s, if you're into that! At the time of writing, the original GR mix has 2608 plays on Spotify alone, and the TP & GR mix has 5049 plays on Spotify alone! Not a bad creep for the playcounts, considering the short time since the EP released.
Running Blue have really embraced their niche, and tracks like this are a prime example of that. With their music, you can be guaranteed that you'll be taken on a journey, told a story, and embraced by music from one of the greatest time periods in modern sounds! As time marches on and the 80s become more and more retro, resurgences like Imaginary Eyes will always have their place in the hearts and minds of those who were privileged enough to witness this legendary decade – and you can tell just from how effortlessly Running Blue's music encapsulates that era, that they themselves are proud members of those witnesses!
With plenty of remasters of their classic hits as well as new tracks like this, Running Blue have got something for everyone, and this fresh new era for the band is worth celebrating: and we can think of no better way than playing some more of this kind of heartachy, devil-may-care rock music. Whether you knew the group by the names of either The Zilths or Running Blue, or whether you prefer the remasters of their old work or their new compositions, there's plenty of them to go around for whatever flavour you like best! Running Blue are BACK, they're here to stay, and we can't get enough of them.
You can check out all the news on Running Blue at www.runningblue.net
Running Blue are a Blue Pie Records USA and Blue Pie Publishing USA ( ASCAP ) artist.
TRIVIA:
The Band Members:
Venues and Gigs:
The band played throughout 1985 and 1986 at many venues across Sydney including:
The Student Prince Hotel
The Rose of Australia Hotel
The White Horse Hotel
The St John's Formal | Sydney University
The St Paul's Formal | Sydney University
The Annandale Hotel
Riverview School Reunion Formal | Balmain Town Hall
The Band Comp | The Round House | UNSW