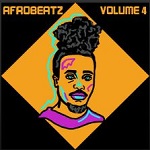 Get your heart beating with the Afrobeatz compilation series!
To continue our African theme of the last few new releases (which can be found here and here) here's the popular Afrobeatz albums! These are exactly what they say on the tin- some fresh beats straight from the heart of Africa that the entire world can now dance to!

Drum beats of all kinds resonate throughout these albums, everything from traditional tribal drums to gangsta rap beats to classic dance beats, and even a splash of instrumental drum beats with some amazing bass guitar that could be perfect for some freestyle rap, should you wish to spit your lyrics over these sick beats! This series truly has it all, and with incredible artists like Blackface and 2Face, you know you're in for some quality. Every artist here is either big in Africa or a major potential up-and-comer, and if you give these tracks a listen, you'll definitely see why!

Still need a bit more convincing? We'll let the quality of these albums speak for themselves. They're on all major retailers, of course including Spotify, so get lost in these phenomenal tracks and know you made the right decision to give that first click of the play button a chance!
Currently not every single album in the series is available, but as time goes on, they'll make their way to your ears, so keep a keen eye out! This is quality music and deserves to be heard. Be transported to the fantastic world of Africa and embrace every single beat that the locals have to offer- you will not be disappointed.