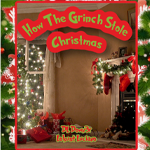 How The Grinch Stole Christmas - Lokust and Down3r's kickass Christmas parody album!
If there's one thing that we were hoping for since DL Down3r's Christmas album last year, it was a sequel. Well, Santa has been paying attention to our list! This time it's Lokust Luciano taking the reigns on the pimped out sleigh, and he's using it to slay all the haters with his dope ass flow, mixed in with his signature irreverent sense of humour! But don't expect for a minute that it's just LL, DL is here with his smoky slow flow to remind you that this duo are the first thing that you should be wanting each year for the holiday season. Dip in and give it a sample using this handy Ditto directory that gathers many different music platforms in one handy place!
The jokes in this album will have you laughing hard, and the genius of leaning into the Grinch's thieving nature and putting a thug spin on his character is one that's sure to bring a Jim Carrey-like smirk to any listener's face.
Ever since the Grinch featured at the Jingle Jam with Lokust and DL, it's only a matter of time before he featured on a track with the duo, right? Let's all ask for some Grinch themed ice and grills for this holiday season, right? We will as soon as YOU do it first, fam, be brave and trust us.
But if you're out of the loop, who are these guys? Well, if we explained who the Grinch was, we're not sure if we'd accidentally say something wrong and cause him to come over to our house and beat us up with a comically large candy cane, so we'll just leave it by saying "watch the movie or read the book" and just being content with describing DL and Lokust.
Lokust Luciano was born William Arciszewski on June 21st, 1988 as a premature baby, and diagnosed with Cerebral Palsy. He grew up in North Fort Myers and began writing poetry at the tender age of 9 years old. He has been active in multiple facets of the Hip-Hop scene since 1998. He moved to Florida for leg surgery when he was very young, as the medical world at the time (1988) didn't have a solid understanding of Cerebral Palsy yet, so he had to seek out an expert specialist. Orlando was the only place he could go for it, and he came out on the other side grinning. He is well known in the underground music scene for his production talent and lyrical delivery. He is also sometimes known by the handle "Crippled Kingpin".
The adversities he has overcome are now a part of his personal aesthetic, showing his strength and sturdy sense of humour. His creative drive is unstoppable, and we're sure you'll agree when you see some of the hits from his catalogue that have been turning heads his way! We'll see you there, and until next time, do what we're planning to do… keep your ear to the ground for some spicy new releases from the Kingpin himself!
For more, check out Lokust's bio here!
www.bluepierecords.com/artist/lokust-luciano
And of course there's DL Down3r, the mastermind behind Suga Boom Boom. Through fierce and funky west coast rap, DL Down3r shares his prolific work with the rest of the world, and the stage with west coast rap legends such as Coolio, Brown Boy, Jay Tablet, Lil Young, Snoopyblue, LadyDice, Baby Bash, Steel City Hustlers, King Z and DJ Kane to name a few.
From powerful messages, lyrical poetry and sharp comments on society, to G-funk and Trap/EDM hype songs, he proves that age and experience is the opposite of a liability in today's rap game. Blast it loud, get ready to feel something, and rest assured knowing that hip hop never died!
DL DOWN3R | OFFICIAL LINKS: