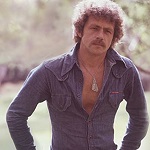 Lee Conway is Sweet Peach's most Wanted Man!
Austalia's Johnny Cash is back on our headlines, with throwbacks to some of the finest country music to ever come out of the Sweet Peach catalogue! Now available on Spotify and all other major online retailers and streaming services, Conway's debut "WANTED MAN" is here for your golden age reminiscence!
We've said it before and we'll say it again – we're on a bit of a Lee Conway binge session lately, we have to confess. And really, why wouldn't we be? Any fan of classic country music, ESPECIALLY Australian fans, will know his name. He's one of the sweetest slices of the Sweet Peach catalogue, and with albums like "Wanted Man" it really ain't hard to see why!
Straight from the 1980 LP "Big Iron", Conway struck the music scene like a mysterious Arizona Ranger hot on the heels of Texas Red – except Fair Dinkum Aussie style! Now it's available through Sweet Peach's own compilation – rather than listen to the Big Iron EP, we now have a compilation that not only shows off Conway's best, but throws back to this crisp and nostalgic chapter in his career! Which is a better option overall in our opinion, to say the least! Back when we put Conway's bio up we touched briefly on "Wanted Man" too. And what a debut to springboard from! Conway's is quite the legacy, and this album is yet another chapter of it that we love to revisit again and again. Throw it in the list – because we got ALL his major work right here on Spotify to satisfy our marathons with ease! Wanted Man is now more than a single – it's the namesake of an excellent album. But even still, it stands on its own merits when put into a best-of playlist too! That's how you know you got a strong song, mate!
But if you happen to be unfamiliar with Lee Conway, you really are missing out… but luckily, clicking here would be the perfect way to get yourself started!
Wanted Man is but a taste of the whole experience waiting for you within Sweet Peach's entire catalogue. If you're still curious about the extent of Sweet Peach's impact on the music world, check out their discography and the full documentation of their story below! And of course, their shiny new website.
www.milesago.com/industry/sweet-peach.htm
www.discogs.com/label/226879-Sweet-Peach
The legacy of Jimmy Stewart and the rest of the crew from Sweet Peach is still alive and well, much to our delight. Sweet Peach Records are digitally distributed by Blue Pie Records for the world, and is protected/has its rights managed by Ordior. We are honoured to be responsible for the distribution of such a prestigious label and catalogue, and this teamwork is a testament of our appreciation for this little slice of Aussie musical history.
And if you needed more info on Lee Conway specifically, and want to plunge into one of the greatest Australian Country Music legacies ever, we have all the info you need on his bio… so click here!
Lee Conway is a Sweet Peach records artist. Lee Conway is published by Blue Pie Publishing USA (ASCAP).