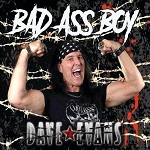 LEGENDARY ex-AC/DC Dave Evans is BACK with BAD ASS BOY!
Recently, much to our pleasure, we were able to give an overview on just who Dave Evans is! One of AC/DC's founders and a true classic rocker! But just because the man is old school doesn't mean he's old hat! We're happy to show that too, given that he's just recently dropped a new single, BAD ASS BOY. And what a badass he is! This is straight out of the 80s, and not a pale imitation like so much nostalgia shillware is. Trust Dave Evans to know how to capture the era with style and passion! Both the music video and the single on Spotify and all other major online retailers and streaming services simply OOZE with that classic hardcore thrasher aesthetic!
This banger is just as "80s" as the rest of his music was all those years ago! It's like we never left that golden decade. And the internet agrees! Just a few months after its release, and the track has already become THE MOST PLAYED track among all of Dave Evans' Spotify catalogue, and it's competing with a fair share of classic hits to say the very least! The 11 years that Dave has been with Blue Pie have been truly special, and the many years of his performances beyond that period have been absolutely legendary… or perhaps, one might say, bad ass.

This single, as well as the rest of his catalogue, is out now and available at all leading digital retailers on the planet! We hope that if you didn't know Dave Evans and his rockin' legacy before, this will help you get in touch with your long wild hair and 80s attitude once again! Look for Dave Evans at all great music stores across the world. For more information on Dave Evans you can visit his official links below. Dave Evans is a Blue Pie Records USA artist and is published for selected titles by Blue Pie Publishing USA (ASCAP)




Dave Evans: