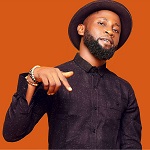 Password brings Life back to soundcloud!
We recently gushed about Password's latest single Ùwése, but much to our delighted surprise, it doesn't end there! Released fresh onto the DJ Central Soundcloud, here's Life!
The track hits kind of different, so brace yourself for this one! It's one that's bound to be a modern classic and make many memories. That's Life!

Ùwése was Password's first single of 2020, and Life is a strong follow up for his second single. This continues Password's tradition of favouring strong singles over albums most of the time! WIth that being said, sometimes he dabbles. Password = Password is an album featuring many other songs that were once singles, but are now all in one convenient and inspired collection. Thought and care was put into choosing the songs, and the mood throughout the album shifts in such a way that it couldn't have been thrown together in a random order. Love was put into this album.
But for an album like that, considerable work had to have been put into each of the individual songs! Case in point…

Ùwése is a song of gratitude told through an adaptation of the Bini language, a deep language with a rich cultural heritage. From Ùwése to Amaghimo to the famous Gobe, and now to Life, Password has everything you could ever want in an artist.
If you like Password, also be sure to treat yourself to this compilation of hits from Africa- of course, 'Gobe' is included!
SOCIAL MEDIA LINKS
YouTube | www.youtube.com/channel/UC4Nbr5GaA4tsnmTqBKyu35A
Facebook | www.facebook.com/passwordofficial
Twitter | www.twitter.com/TheRealPassword
Instagram | www.instagram.com/therealpassword/
Wiki | en.wikipedia.org/wiki/Password_(record_producer)
Password Merchandise | www.bluepie.cottoncart.com