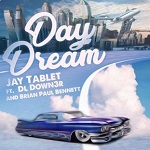 Quit daydreaming and wake up! Down3r and crew have a new single!
"DAY DREAM , COME ALONG AND TAKE A RIDE"

DL Down3r has teamed up once again with Jay Tablet and Brian Paul Bennett to bring yet another modern classic in hip hop to the world! As you can see, Day Dream may just be the new favourite of all the music lovers out there who are after that special kind of urban flavour. And having Down3r feature on this track was a great decision on Jay Tablet's behalf- we can't think of a better way to hype it up and get it popping with said urban flavour if we tried!
And man, what a chill beat! When Jay announced this track on his Facebook we didn't know we'd be cruising so much as soon as we hit play!

Yeah, even with a chill title like Day Dream, we can't possibly have predicted just how smooth this track would be! We're getting breezy Cali summer vibes just listening to it.
Add Day Dream to your Spotify Playlist: https://open.spotify.com/track/6aVxDVoeUWyNmwL7jtOAGS?si=ZvPh5EOtTxCJ-ofdsv5BCw
Purchase: https://music.apple.com/us/album/day-dream-feat-dl-down3r-brian-paul-bennett-single/1464648665
Ever since Stuck In My Ways, DL and Jay Tablet have been onto something special. It's great to see it continuing in such a fine way!



Check out DL Down3r at the following official links:
And you gotta check out Suga Boom Boom while you're listening to this new release, chuck it in the playlist- can't complete the DL experience without it!