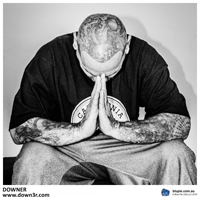 Get Down with DL Down3r in this fresh new beat
'Stuck In My Ways' ft. 'Jay Tablet' and 'Zyme' is the latest track to drop from the talented rap artist DL Down3r. The chorus is complemented by a catchy, continuous beat that sticks, while the lyrics are relatable and describe a tremulous relationship. This song represents all the traits of a successful RnB tune.
DL Down3r's lyrical pieces are based on his personal experiences providing a raw emotion behind each of his songs with an intention to create a positive impact in the lives of those who follow him.
"I am ready to take my music to the world and make a positive impact."
DL Down3r has supported a series of dominant Hip Hop and Urban artists featuring in over 150 shows in just the past 24 months reiterating his experience, talent and drive.
This song is not only a club anthem but a lyrical masterpiece that is relatable, raw and has a refreshing, unique RnB beat.
Check it out below:

Artists Links: