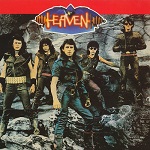 Rediscover Heaven! Some fresh new re-releases!
Heaven are a true blue Aussie metal band that are sure to be a classic in the minds of those who witnessed their prowess. If you're in the mood to time warp back to the 80s and thrash your head to some classic heavy metal, you'll be in Heaven when we introduce you to what we have in store! Hailing from Sydney, Heaven formed in 1980 and they always brought down the house with their distinct brand of heavy metal. From the very beginning, they were always making waves – so it's with great pleasure that we introduce their incredible lineup, now digitally re-released on Spotify and all other major online retailers and streaming services! Let's start with a classic to really get things rolling.
Heaven's first album with Deluxe Records, "Twilight of Mischief", was preceded in late 1981 by a single, "Fantasy". A second single, "In the Beginning" became the album's title track when it was released by CBS in the US under that name. "Fantasy" in particular would encounter a whole new lease on life since being remixed by Country Boy AKA CB. Introducing a splash of inspiration from the Beastie Boys into this track, the remix takes the original in a new and exciting direction – but both versions are unquestionably excellent and would help propel Heaven's rise to fame both back in the past and in modern times!
Speaking of modern times, the Fantasy remixes continued in 2021 with Gabe Rizza's remixes for Key Loch, expanding further on the old banger's potential.
This iconic sound, along with the spicy remixes that it inspired, would go on to endure in the hearts and ears of many a listener – Heaven are a cult classic and they are firmly on the musical map. They had aimed high, and had made it. But there's far more to Heaven's story than just this juicy chapter. Without further ado, check out ALL the awesome re-releases for Heaven!
This all really brings it home: that the legacy of the band endures, entertaining new ears many years after members have left or passed away. Rumour has it that Guns N Roses themselves were influenced by Heaven. Fans of Heaven have a lot more listening to do before they themselves ascend to Heaven – because someone who listens to music this rockin' couldn't have committed a sin in their life! 😉
Heaven are a Deluxe Records and Blue Pie Records USA artist and are published by Deluxe Records Blue Pie Publishing USA (ASCAP) for selected titles.