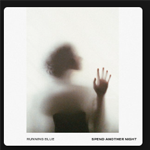 Running Blue's New Single "Spend Another Night" Strikes Deep Chords!
In a soul-stirring return to the rock ballads of the '80s, the iconic throwback rock band Running Blue has just released their latest single, "Spend Another Night." The melancholic track is available on streaming services everywhere, and with the recent quality releases Running Blue have been putting out lately, it's only a matter of time until nostalgia for this era consumes us all in the best way possible!
The lyrics of "Spend Another Night" resonate with anyone who has experienced the agony of unrequited love and the longing for another's touch. The hauntingly passionate vocal performance transports listeners back in time to an era of heartfelt rock ballads and soulful melodies, and paired with the lyrics and moody instrumental, it makes for an immersive and compelling combination.
The song opens with these raw and emotive vocals, crooning about a love that has been patiently awaited for what feels like an eternity. The poetic verses describe the overwhelming feelings experienced when the object of affection is near, and the mysterious shivers that run down one's spine at a mere touch. It's a heart-wrenching portrayal of vulnerability and desire, perfectly capturing the essence of love's bittersweet journey.
"Spend Another Night" culminates in a powerful chorus that echoes the yearning to spend more time together and the plea for love's embrace. The emotional climax of the song is punctuated by a mesmerizing guitar solo, adding a touch of nostalgia and complementing the band's signature sound.
Running Blue have once again struck a chord deep within the hearts of any who will listen. Spend Another Night is sure to become an anthem for anyone who has ever felt the pain and passion of unfulfilled affection. It's a soulful masterpiece that showcases the band's maturity and ability to connect with their audience on an emotional level. The song's timeless qualities and heartfelt lyrics have solidified Running Blue's status as one of the most talented bands in the contemporary rock scene.
With the release of "Spend Another Night," Running Blue has not only brought back the essence of '80s rock but also demonstrated their unwavering musical prowess. As fans eagerly await more upcoming singles, it's evident that Running Blue's legacy continues to thrive, and they remain a beacon of hope for those who crave genuine and soul-stirring music.
So, if you're looking to immerse yourself in a soulful journey through love's trials and tribulations, look no further than Running Blue's latest single, "Spend Another Night." Let their timeless melodies and poignant lyrics sweep you off your feet and leave you yearning for more. Running Blue's "Spend Another Night" is now available on all major music platforms!
With plenty of remasters of their classic hits as well as new tracks like this, Running Blue have got something for everyone, and this fresh new era for the band is worth celebrating: and we can think of no better way than playing some more of this kind of heartachy, devil-may-care rock music. Whether you knew the group by the names of either The Zilths or Running Blue, or whether you prefer the remasters of their old work or their new compositions, there's plenty of them to go around for whatever flavour you like best! Running Blue are BACK, they're here to stay, and we can't get enough of them.
You can check out all the news on Running Blue at www.runningblue.net
Running Blue are a Blue Pie Records USA and Blue Pie Publishing USA ( ASCAP ) artist.
TRIVIA:
The Band Members:
Venues and Gigs:
The band played throughout 1985 and 1986 at many venues across Sydney including:
The Student Prince Hotel
The Rose of Australia Hotel
The White Horse Hotel
The St John's Formal | Sydney University
The St Paul's Formal | Sydney University
The Annandale Hotel
Riverview School Reunion Formal | Balmain Town Hall
The Band Comp | The Round House | UNSW