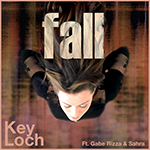 Sahra and Key Loch fall into our hearts with these remixes!
The last time we wrote about Sahra and her excellent track Fall, it was when our very own Soularflair made some excellent and heartfelt music videos for both the original version of the track, as well as the trippy Resonator mix.
Well, fans of Fall have something wholly new to get excited about now – there's not just a Resonator mix now. There's also a TP Fall mix, a Dr D mix, and a brand new radio mix! And all of them are courtesy of the rising star that is Key Loch.
The very same Key Loch who were number one for this week on PlayMPE just can't stop creating! No laurel-resting around here – when passion strikes, the mix HAS to be made before passion leaves. And it seems that the duo of Key Loch and their main mixing man Gabe Rizza went to town on this one. Sahra's melancholy vocals adapt to the new treatments of the remix tracks, fitting like a glove to whatever energy the mixer chooses! Whether you enjoy the somber original, the spaced out Resonator mix, the energetic breakbeats of the TP mix, or the funky guitar riffs of the Dr D mix, there's something here for all different strokes of country pop music lovers. But versatile mixes like these don't happen unless the foundation is rock solid, and thankfully Sahra's original piece definitely is! Let's take a closer look at the mind behind the origin of these fresh beats.
From a small country town north of Sydney, Australia, Sahra was introduced to the world of entertainment at an early age. Even as a child, Sahra was convinced that performing would be her life.
Since then she has journeyed far.
Singing alongside Australian acts such as Vanessa Amorossi and Richard Clapton, touring with bands throughout Australia, and performing both as a singer and actress on television, Sahra is no stranger to the entertainment industry. Sahra and Blue Pie Director, Damien Reilly, first met in 1996 and they have remained friends ever since. The duo began writing in 1997, and put together their first song " One Sweet Day " with Producer Phil Munro. Since that time, Sahra Damien and Phil all set out to write a solid body of songs. These would all aim to be timeless and true to Sahra's vocal ability. To see things come full circle for them once again like this (with Damien's work on these remixes as part of the Key Loch duo) is incredibly satisfying.
Sahra has been an artist who's been on our radar for some years now, especially with the emotional work she brought to us with her stunning album, Girl Parts. With the traction she's receiving on ipluggers, especially with her most popular hits, Boogie Ooggie Ooggie and Destiny Band, this latest step with these Key Loch Fall remixes is another feather in her cap, and another favourite in our playlist! And speaking of playlists, Sahra's website www.sahraonline.com has all the works in her catalogue right now, ready for you to peruse and discover more gems like these!
Sahra's angelic voice, coupled with her ability to take you away to the true essence of the songs that she sings, makes her work very unique. She has that special magic that stars possess and she truly shines on her own. That's why it's so exciting that her music is going to get its time in the limelight like this! Let's all tune in and wish Sahra the best!
We hope that you enjoy your time listening to this incredible music. Sahra is available at all leading digital streaming services including Spotify, Amazon, iTunes, Beatport and Deezer. If you would like to know more about Sahra of if you would like to license any of Sahra's music then please email pr@bluepie.com.au.
Sahra is a DJ Central Records and Blue Pie Records USA artist. Sahra is published by Blue Pie Publishing USA (ASCAP) for the world.
Key Loch are Damien Reilly and Justin Gross. They are the founders of the 90's power Aussie Rock Band Southpaw www.southpawmuzik.com. They bring together a production history between them of 50 years of song writing and playing live music in Australia. The future is bright and Key Loch are wearing shades as they unlock the musical doors of your mind and fill it full of great music. This is the beginning of something amazing and the world can never have enough of GREAT music.
Key Loch links:
Sahra links:
========================================== 
SONG LINKS: