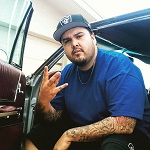 What You Wanna Do?! Listen to Bigg Cixx's new release of course!
You know it's gonna be a good hardcore rap song when it starts with an intense bass and beat, then transitions immediately into an awesome flow. That's how Bigg Cixx decided to start "What You Wanna Do"- he came out swinging, and then some!
I mean what would you expect from a song like this one? It's the kind you play when you're about to throw some major shade, or are just ready to throw down. Aggressive hip hop like this hasn't been seen since Fort Minor's "Cover And Duck"! We at the PR team of Blue Pie and DJ Central like it especially- we haven't been shy to show we're fans of Bigg Cixx in the past and we won't be shy now, right? Sick lyrics, absolutely sick lyrics. Perfect for any beef or even petty insignificant squabble that you might have!
The song encourages you to make a move. Whether that be throwing a hook, serving someone, outmatching their flow in a rap battle, or getting them to read between the lines otherwise, you can feel the anger and shade and it's absolutely perfect to listen to for tense moments like that!
We've gushed about Bigg Cixx before, and we loved him and DL Down3r in "No L's". So now's the perfect time to show off this Instagram post! If you check out the description you might find it quite relevant.
That's right, check out that tag in the description right there. Bigg Cixx and DL cruising together once again, the boys are back in town and they wanna see you! Click here for more info!
Special thanks goes to Sowfwes Production's (sic) for bringing Bigg Cixx's latest shady banger out of the Blue! We're bopping it round the clock now!
If you've somehow missed out on the hip hop craze that these two have been starting lately, there's no better place to start than their first collab- the one and only "No L's"!
Nice, right? You bet it is! We love Down3r, we love Spez Loaks, and we love Bigg Cixx's distinct style and all the ways he branches out with it!

And after samples like these, we hope you have the taste to agree 😉 we love his lyrics and we love the emotions they represent, especially this latest banger!
OFFICIAL LINKS
FACEBOOK: www.facebook.com/BiggCixxBeats
YOUTUBE CHANNEL: www.youtube.com/channel/UCjQNbHF6jRIE0Vu3-P1dgeA