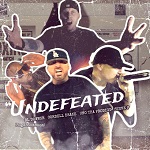 YOU GON HAFTA KILL HIM! DL Down3r and crew rocking with UNDEFEATED!
This track from DL Down3r and the crew is an all-star hit that is sure to make its way into your pump-up playlists as soon as you hear it.
"Undefeated" debuted at the Medford Armory Arena Wars during the entertainment show, giving the fighters the fuel they needed to throw down with the vicious energy that wins games!
A special shoutout to the Arena Wars and Legacy Boxing Gym is featured in the music video for the track, along with an inspirational message.
"What does it mean to be undefeated?
It means you have the drive to keep going when it seems impossible. When the odds are stacked against you, when everybody else would've given up but you still in the fight. In order to win – they're gonna have to kill you… That is undefeated."
The sentiment is loud and clear. As someone once said, "Death Isn't Defeat". You can lose but that doesn't mean you're defeated. That only happens once you give up… which of course, the crew here would never think of doing!
The video features Cordell Drake, Uno Tha Prodigy & Stone P., and is directed by John Risky Boltz. They're a closely-knit group, and the fun they have together is undeniable.
The crew are on top of the world right now, and after appearing at the Arena Wars show and bringing the house down, they're sure to also be at the top of people's playlists too! They're not only Undefeated, they're truly invincible as they show the world their motivation and anger. Get ready to win all your battles when you blast this war cry, because with Undefeated cranked to 11, there's no way that things could get any more based.
Through fierce and funky west coast rap, Down3r shares his prolific work with the rest of the world, and the stage with west coast rap legends such as Coolio, Brown Boy, Jay Tablet, Lil Young, Snoopyblue, LadyDice, Baby Bash, Steel City Hustlers, King Z and DJ Kane to name a few.
From powerful messages, lyrical poetry and sharp comments on society, to G-funk and Trap/EDM hype songs, he proves that age and experience is the opposite of a liability in today's rap game. Blast it loud, get ready to feel something, and rest assured knowing that hip hop never died! It's so alive that it'll give professional fighters the strength to lift cars over their heads and remain undefeated forever!
DL DOWN3R | OFFICIAL LINKS: