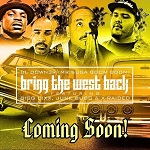 Bring The West Back on the 2nd of May with Down3r!
17 Feb 2020
Recently on Down3r's Instagram, he announced something pretty special that we're sure you guys will wanna know about… The first tour of the year!
That's right, Albuquerque is in for quite a treat on the 2nd of May. From around 8:30 PM to midnight, you'll be able to take in the best that Down3r and his crew have to offer, in the long-awaited Bring The West Back! This time, LIVE in concert!  
You can buy tickets HERE, either the standard entry or the VIP bonus, for $10 or $25 respectively. Be sure to spread the word around as well, CLICK HERE AND TAG A FRIEND ON INSTAGRAM WHO WANTS TO SEE DOWN3R LIVE!
This is bound to be the Down3r event of a lifetime and it's sure to be a hard act to follow, but we're sure Down3r will do it, which is what makes us all the more excited. How could he possibly outdo himself for any other tours he might want to run this year? No matter what he does, this one is looking lit in particular. So if you're curious, check out his Instagram posts, or click here for more information!
And for the few of you in the readerbase who are STILL unlucky enough to have not heard of Down3r after all this time and aren't sure where to start, consider this an introduction to the rest of your hip hop life!

Check out DL Down3r at the following official links: