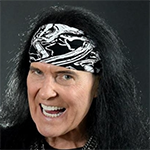 Dave Evans Takes Over Hard Rock Korppi for Once-in-a-Lifetime Acoustic Show! AC/DC NOSTALGIA!
09 May 2023
Hey Finland! Get ready to rock as one of the pioneers of rock n' roll takes over Hard Rock Korppi for an unforgettable performance – it's Korppifest, and it's the one and only Dave Evans! The first singer and co-founder of the legendary Australian rock band AC/DC, Dave will be performing his acoustic show at Hard Rock Korppi from Friday 9.6.2023 to Saturday 10.6.2023.
What better way to celebrate 50 years of akka dakka than this? The show is sure to give true veterans visceral flashbacks to the band's very first show at Chequers Nightclub in Sydney, Australia, back in 1973. Evans will be joined on stage by Niko Rimbacher and Jim Heikkinen to deliver a once-in-a-lifetime performance that fans will never forget, and he's set to perform the iconic AC/DC hits that fans know and love, as well as some lesser-known gems from the early days of the band. The intimate acoustic setting will allow fans to hear the songs in a new and exciting way, and get up close and personal with one of the legends of rock n' roll.
Tickets are sure to sell out fast, so don't miss your chance to be a part of this historic celebration. Get ready to rock and roll all night long with Dave Evans and his acoustic show at Hard Rock Korppi! With a show like this in the works, it's clear that the legacy of AC/DC will continue to rock for generations to come, and Dave Evans will always be remembered as one of the pioneers of rock n' roll.
But as hype as Dave's plans for the near future are set to be, we still have a big soft spot for our personal favourite work of Dave's, that being Sinner, so we're keen to recommend that as ever. Who knows – maybe his shows are gonna keep getting better to the point that they eclipse all else in the rock world! We'll just have to eagerly wait and see… Maybe the Sinner shirt in our wardrobe will have even more company soon! WILL DAVE PLAY SINNER AT THE EVENT?! Well, we haven't heard yes or no, but we got high hopes!
We hope that if you didn't know Dave Evans and his rockin' legacy before, this will help you get in touch with your long wild hair and 80s attitude once again – some merch could help with that! Show off your style and make the world remember what a real rocker looks like. For more information on the hardest working man in rock, you can visit his official links below. Dave Evans is a Blue Pie Records USA artist and is published for selected titles by Blue Pie Publishing USA (ASCAP)
Dave Evans: