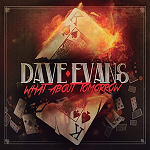 Some rocking hits from Dave Evans and a fiery new merch store!
If you've been following the recent exploits of Dave Evans, then you'd know that he's been busy to say the very least! What with a new single and a tour in Mexico, one might think he has his hands completely full. Well, it's time we turned your attention to some new singles for 2021 – the year is winding towards its sunset months, and to accompany it, we have the excellent Who's Gonna Rock Me and Reach For The Sky! The former features Bad Boy Troy on guitar, Gary Partin on bass, Wasim Balzaar on drums, Martin Gilardi on keyboards and rhythm guitar, and of course Dave Evans' distinct AC/DC-style vocals throughout, bringing us back to the nostalgic days when he used to run with the iconic band. The latter single is a live session collection from Al Rock, and it'll put you in the hotseat for your own mini Dave Evans concert! Screw lockdown, with the internet, we can blast any concert we want on demand!


But what if you're more after some throwbacks? What about the golden era of rock, do the 2010s and 2020s have what we need any more? What about the rest of Dave's catalogue, what about the classics that we could blast from there? Well… What About Tomorrow?

This one is head-thrash worthy to the extreme, so be careful not to get your necks too sore! A throwback to 2014 (yeah, not that long ago!) this collection shows that Dave has still got it, and he's never lost it… well, at least, it'll show that off to anyone who didn't know that before! After all, wild tracks from the 2020s like Badass Boy don't just come from nowhere!
Dave Evans is a rare breed of rocker, one that ought to be supported. And if you already know all there is to know about his sweet new website, perhaps here's something you didn't know… He has merch, ready for sale RIGHT NOW! Check it out!
There'll be more to come on this store… what sort of merch can we look forward to, you might ask? Well, perhaps we might be able to show off his new album? Currently still in the works, it's looking pretty exciting, especially with its title! "BADASS GREATEST HITS"!
The teaser Dave provided on the album makes it look quite promising indeed!
Can you hold your excitement? Well, if not, we have just the thing for you – a means by which to secure your ticket into ROCK paradise!
Just click here to pre-order your copy via Melodic Rock Records!
As hype as this album is set to be, how will it compare to our personal favourite of Dave's, that being Sinner? We'll just have to eagerly wait and see… Maybe the Sinner shirt in our wardrobe will have even more company soon!
We hope that if you didn't know Dave Evans and his rockin' legacy before, this will help you get in touch with your long wild hair and 80s attitude once again – maybe you can even turn up to one of the tours if you happen to be in that neck of the woods right now! Otherwise, look for Dave Evans at all great music stores across the world. For more information on Dave Evans you can visit his official links below. Dave Evans is a Blue Pie Records USA artist and is published for selected titles by Blue Pie Publishing USA (ASCAP)
Dave Evans: