DL Down3r giving away tickets for the 6th annual Jingle Jam! Will he see you there?
11 Oct 2019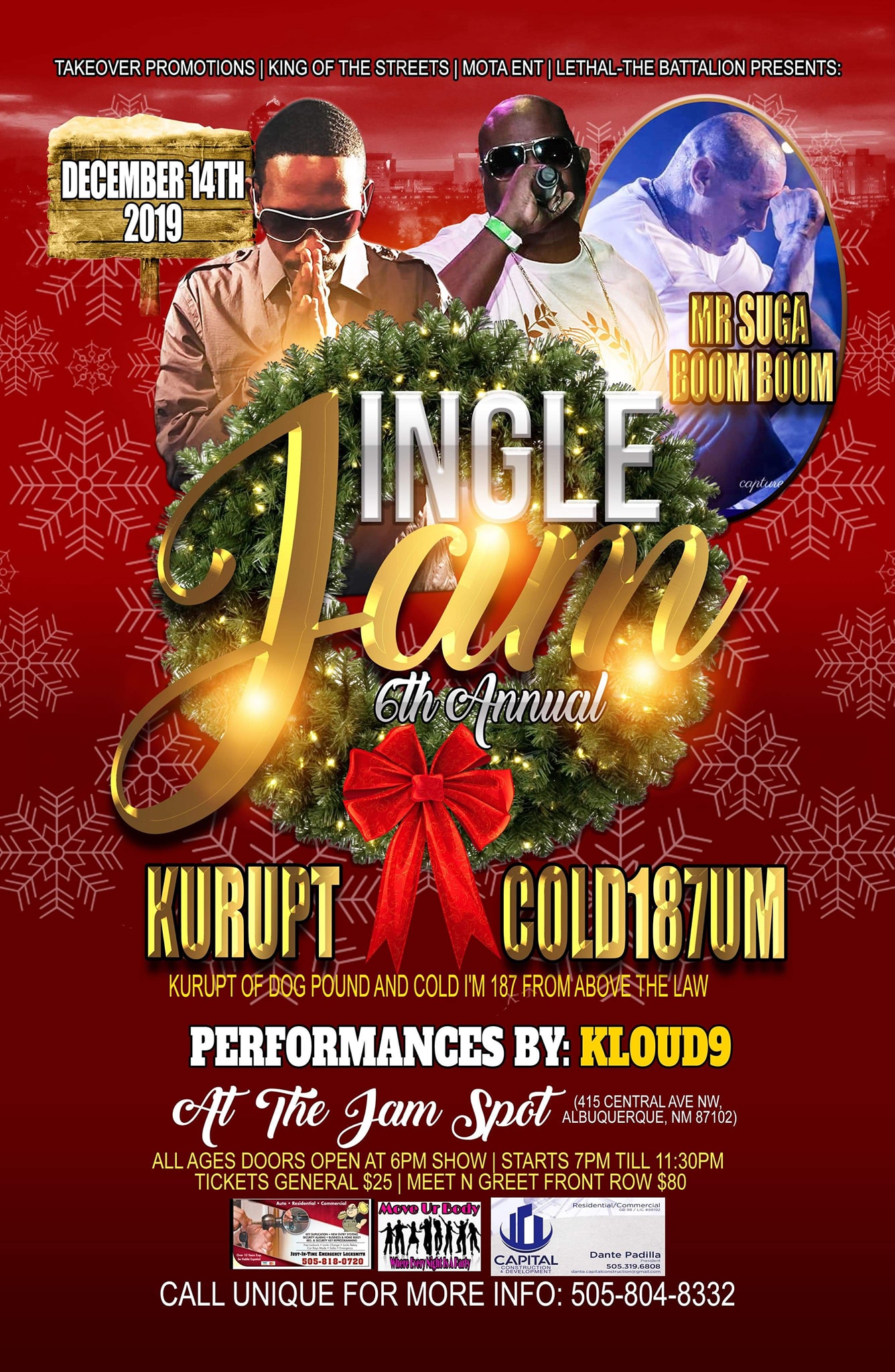 The 6th Annual Jingle Jam is here! DJ Quick, Magic Girl, and of course DL Down3r himself will be attending. It's gonna be a great way to see out the year, and we're sure that it'll be worth every penny for the tickets.
But say that you didn't have to spend a penny… wouldn't that be nice? It could very well be a reality, too. Thanks to a special promotion from Mr Suga Boom Boom!
'Who wants to win tickets to the 6th annual Jingle Jam December 14th 2019???
To see "Dj Quick".. "Magic Girl" "Suga boom boom" and more!!!!! I'm giving away 5 free Tix to this year's Jingle Jam!!! All you got to do is
1). Share this post!!
2). Tag as many people as possible in post
3). Subscribe to my YouTube channel Bellow
4). Screenshot subscription in comments Bellow not hard right???
5 winners will be drawn live on my YouTube Channel December 1st!!
SO SUBSCRIBE NOW!!!!!!!
#SUGABOOMBOOMLIVE#DUKECITY#JAMSPOT#ALLAGES#JOSHPEREZ#TAKEOVERPROMOTIONS#DECEMBER
#JINGLEJAM www.youtube.com/channel/UCtraRkXPVSXyqr76pmj7umg '
It certainly isn't hard! All you need to do is subscribe to his Youtube Channel by clicking here, then share his Facebook post about the event by clicking here, and tag a bunch of your friends. Then, prove that you subscribed with a screenshot in the comments! Sounds dead simple to me. Good luck, and good hunting!
But in case you were wanting to make sure you were seeing DL live and weren't the gambling type, here are the event details!

14th December 2019 – 6th Annual Jingle Jam
Click here for the Down3r facebook post.
Call Unique for more info: 505-804-8332
Saturday, 14th December 2019 from 7PM-11:30
414 Central Ave NW, Albuquerque, NM 87102
Tickets $25. Meet N Greet Front Row $80.
Doors open at 6PM, Show starts at 7PM. All Ages.
Can we expect to see you there from 6pm?! All details are on the flyer, as well as on BandsInTown!
But in case you've been living under a rock, you might be wondering who DL is and why you should attend? Wonder no further- consider this a tutorial in supreme hip hop!

We're sure that you'll fall in love with this song as soon as you put it on. It's his most popular viral hit for a reason! Bump Suga Boom Boom with pride and get lost in its catchiness!
There's a reason that DL's music has qualified for a movie placement- they have true quality.
Check out DL Down3r at the following official links:
And check out DL's cover of River!